BREAKING NEWS!!! JERSEY DEVIL FOUND IN NEWAREK AIRPORT
April 7, 2011
The legendary Jersey Devil is captured at the Newark Airport in New Jersey, March 16, 2011. The creature was captured by multiple bear traps in the middle of the night. As well as, the security cameras, in the airport. I've studied the Jersey Devil. I'm to prove that the Jersey Devil lives among us.


The Jersey Devil is a devil like creature that is part devil and part human. The Jersey Devil was born by a Mrs. Leeds or at Leeds Point, New Jersey. The most popular legend says that a Mrs. Shroud was about to have her 13th baby and said that she wanted this child to be a devil. In all of the tales of the Jersey Devil, they all mention either a Mrs. Leeds or a Leeds Point, New Jersey. Also, Alfred Heston, an Atlantic County Historian, believes that the Jersey Devil could be a Leeds or Shroud baby. He thinks that because, there was a Daniel Leeds who opened land in Great Egg Harbor, New Jersey. Also, a Samuel Shrouds Sr. lived in Little Egg Harbor, New Jersey across from Mother Leeds in 1735. Alfred Heston thinks that the legend started in 1735. He found writings from Burlington, New Jersey that mentioned the word, "devil" in them.


From eyewitnesses, the Jersey Devil is described the Jersey Devil standing 2-7 feet tall, walks on its rear legs with a human like stride. It can fly at high altitudes. Has a horrifying screech. Has a wingspan of 2-3 feet wide. It also has the head of a Collie. Has the snout of a horse. Has thin bat like wings. It has cloven feet, a body like a man's, the legs of a goat, and a forked tail. Some people say that it has a feathery body. But most of the eyewitnesses describe seeing a human like body.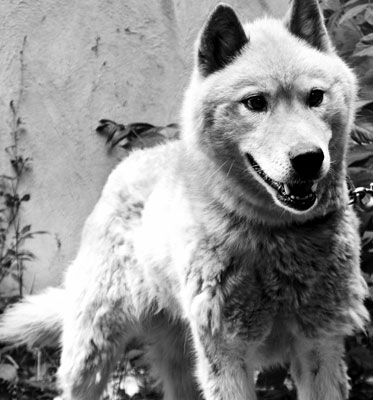 © Mike A., Newark, DE