Muted
April 12, 2011
You've read and have seen shows about people being kidnapped, but you don't know how they really feel until it happens to you. Nobody expects it. Only your kidnapper knows your fate.



I remember it like if it were yesterday. In my small hometown of Amherst, Wisconsin, I was strolling home from my crony's house. I noticed all the beautiful colors, and how it was silent except for the rustling leaves. Then the low hum of a car engine interrupted it.



I have always had awareness of everything and think the worst about. I heard a car door slam and jerked around to find only a soccer mom's minivan in the Robert's driveway. I calmed down and returned walking, but I still heard a car. After a while, I turned around to tie my shoelace, and I saw a green Toyota Corolla creeping towards me. I turned around telling myself that everything was okay, when a blue rag covered with nitrous oxide clasped over my face. I immediately passed out. I awoke several hours later by a bump in the road. A deep, husky voice said, "Hey Phil, she's awake."



After several hours, I heard the engine stop. Car doors opened and slammed. I was yanked out of the car, through a door, up stairs, and through another door. The sound of the lock made me sick. I then drifted to an awkward sleep.



I awoke to find myself in a room with a single window and chair. I heard a heated quarrel happening on the floor below me. "I thought you had a plan, Ty!"Phil exclaimed. That comment made me think of my own plan, and I now knew both of their names. Ty shouted, "I said we needed a plan!" I had gotten silent when I suddenly heard footsteps. The man who opened my door had an untrimmed face and a husky voice, so he had to be Ty. He told me I had a phone call to make.


Once we descended the stairs, I saw a blonde haired man. He suddenly spoke. 'I'm going to say this once. I'm making a phone call to your mother asking for your ransom. Then I'll let ya'll talk. If you say anything wrong, Ty will show you to the barrel of his gun. Understand?" I nodded and he started dialing. She answered ,and he told her everything. He then looked at me with warning eyes, and handed me the phone.


"Mom?", I uttered. She started crying so I responded, "Don't forget to bring a lukewarm casserole to Ms. Woods, never take a cab, and stay inside. Hurry up and do what I said." I handed back the phone and the both looked suspicious.



Then they brought me back upstairs. After two hours, I gave up. Then I heard dogs barking. Outside my window, I saw twenty policemen lining the outside of the cabin. My plan had worked! Ty and Phil were escorted out in cuffs with confused faces. What they didn't know was that their phone had a mute button, so all my mom heard was, "…Woods…cab…in…hurry up..."



After my mom and I were reunited, everything was okay. It wasn't normal. But it's my life. This is who I am, Allie Smith ,strong and real.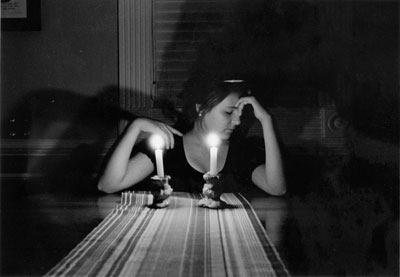 © Eleanor K., Bethesda, MD