Horrors of the Mind
March 16, 2011
Finally! The enormous, roaring monster had released him and he was back at base camp. Alex went inside and fell onto his bunk. It had been another long day of endless torture. Every day they would pull him from sleep and force him out onto the street, at which point the monster would swallow him up.
After what seemed like hours of waiting, it would spit him out. Every time he would find himself forced inside a strange building by a mob of zombie-like creatures. The building was cold and made of stone, with unusually bright lights. Inside the building, were rooms that were connected by hallways. The rooms were where the torture sessions were held. But the torturing was always done by the worst creature you could possibly imagine.
They were the leaders. There was one for each room. They were the ugliest creatures with cold eyes and a frowning mouth. The only time they weren't frowning was when they were laughing. Whenever Alex would cry out in pain, they would laugh at him, in triumph. Alex would be bounced around from room to room. Each room had a leader and a mass of zombie-like creatures.
They used unusual forms of torture. They would make his eyes burn and his hands ache with pain. In one, large room they would make him run, until he was sick. In others they would turn his brain to mush. Surprisingly they would give him a meal, but it was never anything eatable. Even the zombie-like creatures wouldn't eat it. There was a master mind behind this prison. A horrible, ugly, smelly creature. On occasion, Alex would see him walking through the building. Alex knew he was the leader. The zombie-like creatures and even the leaders of the rooms would cower in fear as the creature walked by.
Finally, at the end of the day the large, yellow monster would swallow him up and spit him back out at base camp. He would then go inside, lie down on his bed, and think about why he had to do this and when it would end. Sometimes he would ask, but all people would say is "Because it's high school and you only have two years left".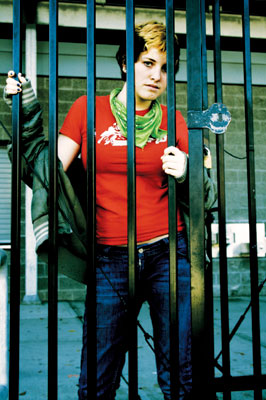 © Jessica C., Corvallis, OR