The Mystery at KJHS
March 9, 2011
''Dr.Wingal, how is she doing?'' I asked.

'' There is very little improvement,'' He said

'' how long before she will recover?'' I asked.

'' I am not sure she ever will recover,'' he replied.
I began to cry softly…

It all started late one cold October night. Oh how the wind whistled and blew on that cold night. I don't know what it was maybe, it traveled in the air. Whatever it was,
It had an eerie, bone chilling feeling to it. Paige, Rebecca, and I was walking down
McCain Street on our way to the library. When we seen the school doors wide open
this was unusual because the school doors are even closed during school hours.

''I wonder why the school doors are open,'' said Rebecca.

'' I don't know but lets find out,'' I said.

'' I'm not going!'' said Paige.

'' Why not I am,'' I said.

'' So am I,'' said Rebecca.
We started walking into the school hoping she was following us. We got into the school, we turned around, but Paige still standing outside starring at us. We when to go back outside when the doors slammed shut. We tried to push the doors open with all our might, but it wouldn't move. I remembered there was a door on the other side of the cafeteria. We walked to the entrance of the cafeteria. Just then something grabbed Rebecca and ran with her. I tried to catch him, but he slammed the cafeteria doors shut. I heard typing so I when to the keyboarding room. Inside the room was Rebecca knockout and lifeless. Beside her was a computer that seems to be typing all by itself. I went to go get Rebecca when something sent me flying backwards out of the keyboarding room and shut the door behind me. I heard a cry for help on the third floor. When I reached the top of the steps the cry got louder, so I ran to the library just to find a tape recorder playing creepy Halloween sounds. I was running down the stairs so fast I didn't see Mr. Detillo and ran right into him.

When I told him what happened he said he was here for the same reason and he heard running so he when to find out who was running and why were they here. We went to the keyboarding room, but nothing were there. When we left the room we noticed a light in Mr. Detillo's room, when we got there Rebecca was lying across the desk as if she was a sacrifice. Mr. Detillo bolted at the creature and eventually stabbed it with its own knife. I grabbed Rebecca and ran down the main stairway in front of the doors and waited.
Mr. Detillo came out told me to move and through a desk at the doors and busted them. He told me to leave, but I stayed and protested that I wasn't leaving without him. Just then the creature appeared behind him stuck his hand in his back and ripped out his insides. I stood there horrified at what I just witnessed as his body tumbled down the stairs. I grabbed Rebecca and ran out the door. When we got out side she woke up. I tried to talk to her, but she wouldn't talk back. After hours at the police station we finally got them to go to the school. There was blood all over the place, but they didn't find any bodies. I was cyber schooled through out high school. Rebecca ends up in a mental intuition. After that terrible day I never seen or heard from Paige again.

I am a sophomore in college now and sometimes when I am working very hard I look up an swear I see Mr. Detillo winking at me, but no matter what happens I will always wonder what happen when the creature and Rebecca was alone.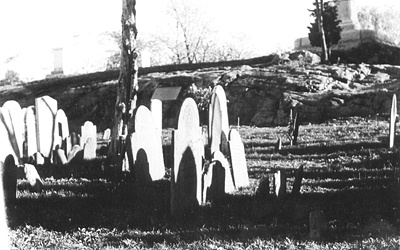 © Kimberly R., Marblehead, MA