breathless
February 16, 2011
another message from her mom, go figure. she's finally standing on her own two feet again and feels the need to brag about it everyday. it was obnoxious. and, of course, the occasional message that appeared, half-way cut off, from a telemarketer selling some crazy miracle drug. just what the world needed. then... things got strange. the third message clicked on and she heard heavy breathing, thinking someone had pocket-dialed. letting the message run, she began to hang up her jacket. she stopped. frozen. she turned slowly to the machine as she heard her name whispered in a raspy voice again. "Chelsea." she recognized the rasp in his voice and she quickly turned the deadbolt on her door and rushed to the window. just as she twisted the lock on the window, she saw his handprint on it. he was in the house. and she had just locked herself in. hearing the shuffle of drunken feet behind her, she reached for the window lock but his hand was faster than her own shaking one. tears started filling her eyes as they traced the scar that led up his arm and she closed her eyes tight, feeling the tears fall down her paled cheeks. when she opened them again, she saw his sick, twisted grin and his violent eyes.
"Hello, Chelsea, dear."
"Please don't, Peter. Please don't."
"What's the matter, darling? No hug for your fiance?"
"Oh, God..." her breath left her lips almost as smoothly as his dirty hands reached up to her face and touched the tears on her cheeks. He then reached up and moved the hair away from the scar on her forehead.
"I see you got rid of the nasty table that did this..."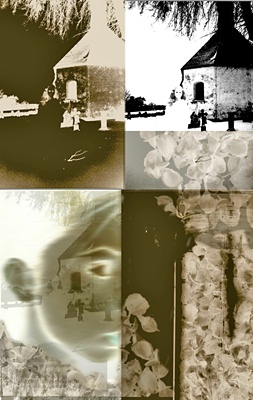 © Shann L., Tai Po, Hong Kong