Hush: Part One
January 21, 2011
This wasn't the first time Balt had changed schools, and each time he hated that first day when the teacher would call out his name.

"Balthazar Cliffe?" Mrs... something called.

"Just Balt," he said, feeling intense loathing for his parents who had cursed him with this name.

"Okay," the teacher said, checking off his name with her boney old hand. "Shannon Cliffe?"
Beside him, his sister raised her hand and said, "Here." Shannon was ten months younger than Balt, and merely by the normal name she had been given, was clearly the favoured child.
The ancient skeleton in a dress kept calling out names in the front, while Balt took the opportunity to glance around at the new faces surrounding him. Balt expected that most eyes would be on him, or at least glancing at him occasionally. Balt figured he would stand out immediately; first off as the new kid, but mostly with his dyed black hair, piercings, and heavy black boots, which in early fall weather, seemed ridiculous. In this class though, no one's eyes were raised above their own desk. No one tried to talk to their neighbour. No one even smiled.

The rest of the day passed just as painfully as that first class, and Balt only had one class left before the end of the day, math, which he couldn't care less about. Everyone at the high school was acting like zombies. They all showed very little emotion and seemed to rarely talk with each other. Apparently in this town, the first day of school was a very miserable time, Balt concluded.
Balt, Shannon and their parents had moved to this town, Bellesville, two weeks ago because their parents had wanted to get away from the pressure of the big city. This managed to simultaneously ruin Balt's life.
Balt assumed his sister was in class now, probably so caught up in her work that she didn't even notice how strange all the other students were acting. Balt couldn't stand it though. He wanted a cigarette. He had been trying to quit but was willing to make the acceptation today. Balt saw a bunch of trees behind the school, so he walked there to avoid being seen and instantly being labelled as the crazy, gothic smoker.
He was almost in the trees and about to take out his cigarette, but he quickly looked behind him first to see if anyone was around. A guy was almost right behind him though. Balt gasped and jumped back.
"What are you doing?" Balt asked.
"I just needed to talk to you," the boy said, putting his hands up and walking forward slowly.
"What's your name?"
"Jake, and you need to listen to me carefully."
"What are you-"
"You should never have moved to this town. Leave now while you might still have a chance." Balt stepped closer to Jake.
"You're actually telling me to leave town? Who do you think you are?"
"I'm trying to help you. No one else was going to tell you how things are. You have to be very careful. If you're not careful, they kill you." Jake then let out a scream which turned into a chocked gasp, and his eyes started darting everywhere.
"What?"
"I shouldn't have said that." Jake turned back towards the school and started running, covering his face with his hands.
"What are you talking about?" Balt called after him. "Who are they?" As he said this, he saw them. For a second, all around him, everywhere, people appeared. They looked dead. Their faces were sunken, their skin was grey and slimy, their hair was dirty and tangled, their clothes were torn, and their eyes were wide and black. For that second, Balt could see hundreds of them. And every one of them were looking at him. Then they were gone.
To be continued...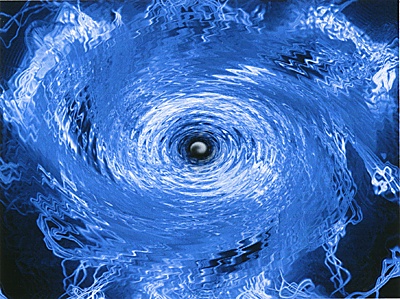 © Alex D., Phoenix, AZ