A night on the beach
December 24, 2010
It was a damp cool night in Montana. Fred Thompson, a tall, dark-dash haired, seventeen year-old, was walking on Navy Beach, a small high school hang out. Fred was not happy, his girlfriend insulted him for the last time. Fred self-esteem was low (that's why his girlfriend asked him out). Fred devised a plan, he was going to kill his girlfriend and then kill himself, but the event that happens to him puts that plan to a halt. This is his story.
* * *

"Why did you even take me out here?" Fred's girlfriend said rudely.

"It's a surprise, you will see," Fred said with hate in his voice.

As Fred walked down the beach, he seemed almost at peace. Maybe he wouldn't kill her, but he still planed on it. After walking a quarter of a mile, he stopped, just in time to see something half buried in the sand. Treasure had been found on the beach before, so Fred went over to the mysterious spot to investigate. As he flipped the mass over, his girlfriend screamed. The half eaten corpse had coach roaches in his mouth, and worms eating his eye sockets. His forehead had what appeared to be three bullet holes in it, and written perfectly above them was the words, "Your next!"

"Fred, can we leave now?" said his girlfriend as if she saw nothing.

"Fine with me," Fred said. When they got to the car, Fred said he had to go to the bathroom and quickly retreated to the woods. After walking a third of a mile, Fred found his gun in a familiar log that he had left it in. When he returned to the car, the scene he saw horrified him. His girlfriend laid there with half of her face missing. I've got to get out of here, Fred thought to himself.

Before he left, he took one last look at her carcass. He noticed some writing on her neck. As he got closer to the body, he could read the writing. It said, "I see you, Fred." Scanning the beach, Fred saw a dark figure. Fred froze, he couldn't move. The man started to walk towards him. What do I do, Fred thought. Get to the car and go!

2

He sprinted to his car and jumped in. He twisted the key, but the car would not start. "Start, please start!" he said as he frantically tried to get the engine to work. When the car finally started the strange man seemed a mere hundred feet away. Fred turned his headlights on, and he could see the murder's face. The murder's name was Jim Jacobson. Fred knew from the news that Jim was wanted for four murders, and judging by his girlfriend and the man on the beach, that made six.

Fred took off. The murder lifted his gun to shoot the car that was racing away, but he didn't shoot.
* * *

When Fred got to his small apartment, he raced to his room and hid in his closet. He still had his former foster dad's pistol, but he was never this scared in his life. He waited. Everything was dead silent. He didn't move, why would he? Then almost in an instant, a bullet came flying through his window, through the closet door, and missed his head by inches. Fred knew what he had to do, turn him self in for attempted murder. Jail was the only safe place now.
* * *

Fred's first couple of weeks in jail were peaceful, but when he was told he was getting a new cellmate, he was not happy but accepted it. At seven P.M., the new cellmate arrived. The door open, and Fred howled. It was Jacobson. How could this happen, Fred thought. "Hello, Fred," Jim said with a twisted smirk on his face, "We didn't get to finish our chat," he laughed manically.

It was already dark, and Fred was dozing off. No, Fred thought sternly, he will kill you in your sleep. He couldn't help it, he started to fall asleep.

At about three A.M. (so he thought), Fred started gasping for air. He was right, Jim was on Fred's bed and was choking him. As he felt his windpipe collapsing, he regretted ever going to the beach.
* * *
3

Fred woke up. He was in some kind of hospital room, and he was in a straightjacket. "Where am I?" Fred screamed!

"This is Navy Beach Mental Hospital," a nursed replied calmly.

"Why am I hear?" Fred asked, but then he started to remember. After being bullied, picked on, and just down right abused every day since the first grade, he recalled something snapping inside of him. Fred would never recover. But, why was he calm, why was he happy? Maybe because Jacobson doesn't exist, or maybe it's because he survived his night on the beach.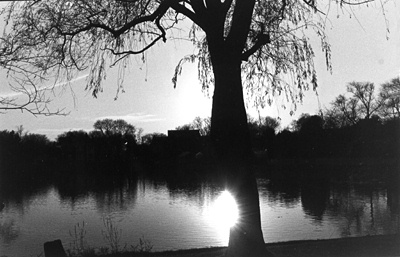 © Chuck K., Marblehead, MA