Only 15.
December 9, 2010
I strode forward, acknowledging my chance, my chance to set things right. The wind blew back my inky hair, and I knew that the long, flesh pink scar was visible, the long scar that stretched from the middle of my forehead, to the corner of my jawbone. I hoped it scared her. I hope it made Kaci want to cry, because I hated her. I hated her with a passion. It would teach her, to never, ever, ignore me, never refuse my company, ever again.

I walked up the drive, and pulled out the long, butcher's knife from my jacket. It glinted in the moonlight. I noticed they were lighting candles inside the house, placing them in the windows. Trying to make it look merry once again. But they had no idea, in less then 15 minutes, there precious 15 year old daughter, would be lying on the floor, a pool of blood surrounding her stabbed heart. I don't care if I get arrested for this crime, all I know, is that I would be doing the world a favor.

I was at the door stoop now. I tried the door. Those stupid people; it was unlocked. Slowly, stealthily, I walked down the long hallway. I saw my dark, scary reflection in the mirror. On my hard, weather beaten face, was a look of pure hatred. Go figure. My black eyes, black hair, and black heart matched well with my personality.

As I kept walking, there was a door off to my left. I peeked in, and saw the Rutherfords sitting together, chatting, laughing. That would change, right now. I stepped into the room, the knife in my hand. The family looked up, and saw me. They probably thought I was the devil. I moved towards them, the knife raised.

"Now look here, son." Said the man, holding up a hand. "Put down the knife, and I won't call the sheriff to alert him of your trespassing. If you come any closer I will."

"Kyle, why are you doing this?" Said Kaci, the reason herself. "Surely someone must have said no to you before … "

"I am here to kill you, Kaci. And if your parents want to stop me, I will kill them, too." I said, and advanced another step. Her parents stood, and surrounded her, blocking her, from me.

Her father stood up from his chair, and ran from the room. I watched him go, and laughed. The coward. When he comes back, I'll have killed them both. And I lunged. The women screamed, and I buried the knife's hilt into the the elder's chest. Kaci screamed, and whimpered, cowering in her chair.

"Kyle, please … "

But she was dead before she could say another word. I knocked her body out of the chair with my foot, and stepped on her face, turning my foot, ruining her flawless face. She was no more, the hot, popular Kaci Rutherford was dead. But then, the shotgun fired, thrice, and I could feel the bullets impaled in my chest. I had forgot about the father. And that was my final thought. But I knew, I had accomplished my goal, with some bad outcomes. But she was gone.

-

The old man across the street had heard the shots. And now, he saw the story on the news.

"Two women and one young man have been found dead at 57 Pine Avenue. The women seem to have stab wounds inflicted to the chest, and the boy received three gunshots to his upper and lower abdomen. There was a butcher's knife found by the boy's side, which seemed to match the murder weapon for the women. People at the boy's local high school claim that mentally, he was quite confused. Relatives, meanwhile, mentioned something about autism, however, school authorities had never heard of the young man with any condition. The only witness was the husband and father of the ladies, who stated: "He came in the front door, and stabbed my wife and daughter to death. I finally silenced him with my shotgun that is always in my kitchen, but he caused great casualties in my life."

The old man remembered the girl, but only vaguely. She had come trick-or-treating at his house. Such a shame she should die, at such a young age. Only 15. She had years ahead of her. But they were gone now. All gone.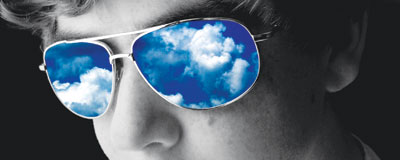 © Joseph B., Mesquite, TX