Shimmering Glass
December 8, 2010
"I love you." He smiled and let go of my hand.
"I love you, too." I smiled wide and waved at him as he walked through the school parking lot.
"You guys are so cute." Darcie said as she walked past me. I hid the smile creeping across my face, and continued walking to my car. Talon drove by, and blew a kiss out of his window at me. If I don't stop smiling, my face will my stuck this way. I wouldn't mind though, because as long as I have Talon, my life will always be happy. I started the car, and began driving home. I ran into my room, and instantly picked out my outfit. I had to look absolutely perfect for tonight. Talon is going all out and taking me to this really expensive restaurant, whose name I wouldn't dare try to pronounce.
So far the 14 months with Talon have been heaven, and it couldn't possibly go better.
I filled the empty time between 2:00 and 6:00 by reading, and then getting ready. I checked my clock. 7:08 PM. Fashionably late, as always. Talon knocked on the door, and I opened it, straightening my skirt.
"Hello, gorgeous." He smiled with that To-Die-For, Drop-Dead-Gorgeous smile, and I breathed deep.
"Hi." I replied, smiling back shyly.
"You're beautiful, darling." He said in his best Romantic-Gentleman voice, and offered his hand for me to take. I rested my hand in his, and shut the door behind me. He opened the passenger door for me, and I stepped in, sinking into the seat. The door shut, and the driver's door opened. Talon climbed in, kissed my cheek, and then drove off towards the restaurant.
"You look pretty spiffy for being Talon." I smirked and looked at him. His hand rested on the steering wheel, and he slouched in his seat. He was wearing a tux. My boyfriend who wears nothing but band Tee's and jeans is wearing a tuxedo. Imagine that. He smiled and glanced over at me.
"Well, of course. It's a special night, and you know how I just love to dress up." He joked, and I looked out the window.

It all happened in slow motion, like the way everyone says their life flight before their eyes. I never understood what that meant, until that night.
"No…" Talon said under his breath, and then the car swerved and rolled onto its top. I felt his hand reach across, and hold me to the seat as the car hit us. We rolled onto the middle of the opposite side of the road, where an on-coming car hit us again, and then another, and another, each of them hitting the same side; the driver's side.
We skid to a stop. I was terrified, waiting for another blow to the car. I breathed and looked over at talon; he was limp against his seat and had blood on his face. His hand was still across my waist, not letting go. I screamed his name, and shook his arm. He wouldn't wake up; no matter what I did, he didn't wake up.
I heard sirens, and they got us out. I crawled out of the window, glass scraping my arms and legs. I watched the medics pull my boyfriend from the crushed vehicle, his body limp against their bodies. As I waited for him to come back, I stared at the shimmering glass scattered on the dark pavement. Then they came back with the news.
Talon still didn't wake up, even when they tried to revive him.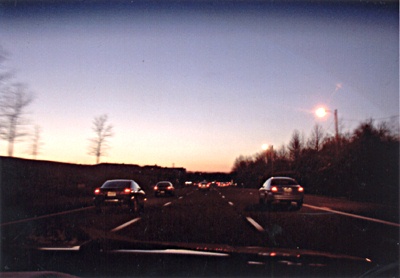 © Carolyn K., Toms River, NJ