Silence Amongst The Screams - Prologue
December 7, 2010
Prologue

Her scream rang out through the house. Joyce tried covering her ears with her hands, but she couldn't block it out. She locked herself in the closet, hoping that the murderer wouldn't come after her. Lightning flashed through the slits in the closet door. She could still hear Justine's scream from downstairs.
The murderer had come in through the back door of the house while they were watching the weather forecast on TV1. They hadn't heard the door being broken down while the thunder roared. The murderer stormed the living room. She and Justine screamed for their life. Joyce was lucky enough to get away, but the murderer grabbed Justine by the hair and dragged her down to the floor. Joyce ran to the bedroom closet and locked herself in.
Justine scrambled to get away from her assailant' the killer grabbed her leg and pulled her towards him. She was at his feet with her eyes filled with tears… and fear.
"Please don't kill me! PLEASE!," Justine said through pleading sobs as the killer raised his knife.
***
She felt small and helpless inside the closet. After some time, Justine's scream couldn't be heard. Horrifying thoughts ran through Joyce's mind, 'Is the killer gone? Is he still down there? Is he coming to get me?'. Joyce could almost picture Justine's body on the floor of the living room but stopped herself from doing so. All she could hear was the thunder roaring. She slowly crept outside the closet, hoping to find the killer gone, she looked out the bedroom door seeing no one. She slowly crept down the stairs, making sure not to make a sound in case the murderer was still around.
When she got to the living room, the bloody mess that was once Justine's body lay on the floor. Her innards strewn about the floor. Her face obscured by the bloody stabs to her face, her neck slit. Joyce broke down in tears at the bloody sight of what used to be her best friend. As she cried over Justine's body, the murderer struck her, stabbing her through the chest. In the last few moments of her life, she couldn't help but wonder, 'What would have happened if I'd just stayed in the closet?'.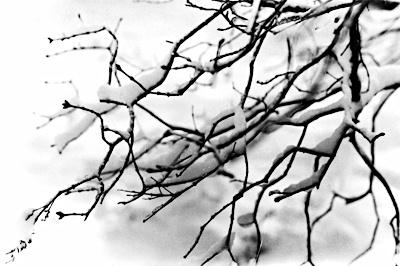 © Lindsey D., Marblehead, MA