look!
October 26, 2010
I walk down a dark alley, my eyes are everywhere. I hear somewhere, a girl crying. I turn a corner where in my vision i see a little girl running in a differrent direction than me.

"Hey! You!" I call into the silent night. The little girl turns around and pulls her little hood down. She stares at me I walk close to her and squat down to her eye level.

"Why are you crying little girl?" I ask her in an innocent voice. She sobs and wipes at her eyes. She look frightened, my eye's trail down her body. She looks about seven, purple jacket with a monkey on it, and panty hose and a skirt. She has dress shoe's on.

"I don't know where my mommy is." She whispers, crying. I wrap my arms around the girl and stand up, picking her up.

"How did you loose her?" I ask patiently, holding her frail body to my hip. She's all dressed up, under that ratted jacket is a dress shirt.

"We were walking, and she stopped to say hi to a man and i saw a friend so i ran up to her, but it wasn't my friend and i said sorry and turned away loooking for my mommy, but she wasnt there!" She explains, tears streamin g down her face. She sobs and I hug her close walking.

"Its okay, sweetie. Whats your name? Where was you and your mommy going?" I ask her, calmly, smoothly. She stares into my eyes.

"My daddy died, we were walking to his funeral." She crys more, burying her face into the nape of my neck. I rub her back.

"Shhh... shh... its okay." I soothe her. She looks up at me.

"Its okay for me. But not for you, tell my daddy i said hi." She whispers. Shock strikes through me, and in her small frail hands she twists my head. A snap peirces the air and I collapse. I watch as this girl, skips off and a man apppears in the darkness and she grabs his hand. I gasp for air but its no use, i slowly fall into the blackness of death.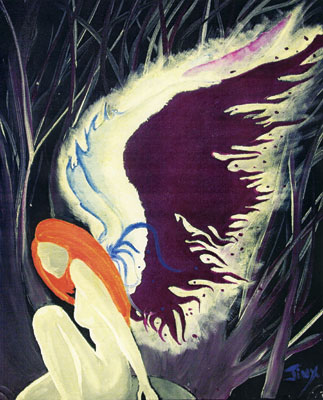 © Megan B., Youngstown, OH