I Never Told Anyone...
October 25, 2010
I never told anyone, but I will tell you that his screaming still wakes me up at night. I hear the gunshot, followed by his baby cry, raw and innocent, and I wake up with my feet kicking, trying desperately to get to his bedroom in time. His door wasn't ten steps from the couch I fell asleep on. Those mornings don't make the days any easier.

It was a boring Wednesday night, full of routine. The Stephens had called the previous weekend to be sure I was free tonight, as always. I had been babysitting their son Henry ever since he was four months old. I knew their house like the back of my hand now; where the first aid kit was, where the phone book was, and what rooms had the best cell phone reception. I knew Henry like he was my brother, what faces and grunts mean what, which cry meant he's hungry and which meant he was tired. It was great; I hung out with my adorable baby brother while getting paid for it. There was nothing that could go wrong.

I had finally finished my Calculus problems. Phew. I glanced at the clock; it said 9:30. Tim and Becca would be home at ten at the latest, they had said. A long and abrupt yawn crept out of my mouth, and I decided since my homework was mostly complete, I wouldn't be awful to take a minute or two to lie down on their unbelievably comfortable loveseat in the living room. Once I sat down, though, I could feel its spell coming over me, and suddenly my eyelids felt heavier than they ever had. In a daze, I heard something; a sort, angry sound, followed by a deep, desperate cry. It was not a cry for food or sleep. The next thing I knew, my eyes were open.


The news paper article said the guy's name was Joe Andrews. He was thirty –nine years old, and he had never been married or had kids. The only thing that made sense to me was the part about him not having kids. If he had them, that would make this even more impossible than this already was. He was 5'8" tall, not a scary height, with brown eyes and brown hair. An average guy, not someone if you saw in the grocery store you would run away from. He was someone's son, neighbor, employee. A man of society. But I didn't see him like that. I met him as the monster who ended Henry's life.


A gunshot, I realized. The quick angry sound was a gunshot. It pierced my ears in my sleep and jolted me, unexpectedly, back to reality. In the two minutes I had been asleep, it felt like the world had become a shade darker. The once bright yellow wallpaper in the living room was now dimmed to a murky mustard, and the hall light I had kept on to check on Henry was shut off. I could hear and feel my heartbeat in my chest, my throat, my gut. My body wanted both to run into Henry's room, heroic and brave, and stay frozen in this couch forever. I didn't know what to do, but my years of parental warnings and babysitting courses did. Without thinking, I called 911. I wanted to help him, to protect him, but right then, this was the only think I could do. So I hid in the closet. Like a groundhog, hiding in its burrow. Like a coward.


Twenty minutes later, I was alone. The closet was as dark and black as the sky outside, but I was stuck on the ground, knees up, holding my legs tight to my chest. I was shivering, and my teeth were chattering, but I could feel sweat on my forehead as well. Even my body temperature was confused. The man was gone, I heard him run out the door minutes ago. I listened to the screaming slowly go from a howl to a cry, then tothe muffled whine of a dying child. I didn't cry the whole time in the closet-something wouldn't let me- but I couldn't help but feel like we were losing life together. Trapped, unable to move a muscle, the last sound I heard from him reminded me of a sigh of relief, of sadness, I couldn't say, but I know those were the last sounds he made in his short life. Now the boys were totally gone, and it was just me, me in the closet, in the house, in the whole world, it seemed. The next things I heard were the police sirens.


They yelled my name. They ran around the house, loud footsteps frantic on the stairs I climbed so many times, and then they called me some more. Doors opening, closing. Light creeping in from the hole in the doorknob. A sense of relief came over me, and my unforgiving grip on my body started to loosen so I could move some. The door was opened by a man I had never seen before, but I felt safe in his presence. I was greeted by a blindingly bring light invading my dark space and many other men dressed in blue and white , forced calmness covering their faces. They helped me up and asked me questions, but I couldn't for the life of me make out what they were saying. The brightness still invading my eyes, I fell, flat on my back, and once again I was comforted by the darkness. There, I didn't have to see, hear, or believe what I had just been through.


"We don't blame you." They said. They invited me over for dinner one night, months later, but I couldn't do it. I see the house and hear the gunshot, and now you know that it still wakes me in my sleep.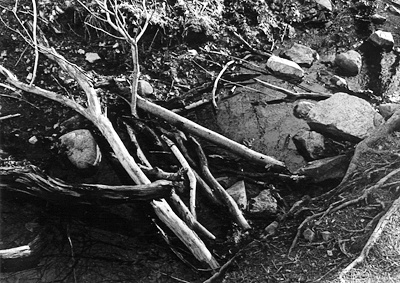 © Julie S., Marblehead, MA