One Cold Morning
October 13, 2010
No one ever said relationships were easy. Maybe that's why Demi kept talking to Shane, even though he clearly wasn't interested in her anymore. No one could blame him though. Demi too had felt the same way. Sure at first, he had been the only brown haired, jock-bodied, and blue eyed Latino boy in school. But now he had merged into the horde of other boys Demi knew. The dull, thick-headed boys of Oakwood High.
Demi stroked her long black hair. Ever since she had been using the new conditioner, it had been thick, strong, and gleaming with a wet sheen. She tugged at it softly, just to test her theory. Her bed sheets were unusually cold this morning. But that could have been because of the morning dew, playfully dancing around the treetops of Oakwood forest. She cupped her hands around her mouth, and breathed a warm, foggy sigh into them. She hated cold mornings. But today was Saturday. She didn't have to wakeup early for school. She didn't have to sit in a quiet classroom, waiting for all her school friends to arrive. She didn't have to wait for the cold, looming over her shivering body, prepared to cast a wintry spell on the world. Today was Saturday. No school. Just Demi, and her bed. Daydreaming about Shane, and occasionally fading back to sleep. But for now, she would snuggle under her heavy bed sheets. And she did.

Demi's room was silent today. She'd conquered her MySpace addiction, and now the computer lay in a sad corner, dead without its normal whirring sound. No birds chirped. Her clock was broken, and the television downstairs too, was silent. Usually her dad would be the first to turn it on, watching BBC or some other news broadcast. Today, he was in bed, sick from the flu they had all gotten some few weeks back, save for him. Today was a peaceful morning.
Outside, the mist lowered. A dark human figure slowly emerged from the mass of trees. A squirrel ferreted away to a tree somewhere, as they sauntered on the cushion of forest leaves. The Genaro's house looked as white as ever today, the wet moisture having washed away the rainstorm mud, from the previous night. The secluded location of the house was perfect for the nefarious deed that was about to be done. They knew that the rest of them were asleep, with the girl only starting to awake. But even she would take a while to get out of her warm bed. The gun was grasped tighter.
Demi only started to awake, as the first bird chirped. She was tired of lying in her bed now, and wanted to go downstairs and see what was on T.V. They usually played good movies at this time. She fell down her bed, stumbled for her slippers, then gently slid in her pink silk robe. It was colder outside the warmth of her sheets. Much colder. Demi hated to be the only one awake in the house. She had to tip toe down the stairs, and make sure the T.V was on mute before she turned it on. It was a stealthy task, but she did it. With the blue duvet that had once welcomed her sister, Jenna, to the world, she snuggled on the sofa. She whispered the lyrics to a song on T.V, and changed the channel.

Yesterday, Demi had watched Shane play in the InterHouse match. Her best friend, Mace, had been the loudest in the metallic bleachers. For some nostalgic reason, she still enjoyed playing matchmaker to Demi and Shane's dyeing relationship. She spent the whole match, making remarks to Demi of how 'hot' Shane looked in his blue shorts. Demi just flickered a smile.

The window was small, fitted with a white decaying frame made of wood. From this window, they watched. They watched the girl. Still. Breathing softly. Resting like a ball, curled up on the blue sofa. They watched. They could open the door and make the girl stare right into the gun's ashy center. They could creep inside, and lure her where she was supposed to stand. They could kill her. Haunt her. Torture her. But they just watched.

With a soft click, Demi switched off the T.V. She pulled the soft duvet up to her nose; snug. The wind howled outside, thousands of Mother Nature's angry souls racing under the gray sheet of sky. Once again, silence pressed it's deathly presence at Demi's lips. Her thoughts. Slowly creeping up her fingers, leaving her numb. The only the sound was of souls howling angrily in the gust.
A faint bang exploded at the porch. Demi jumped. She breathed. Sprang up from the Sofa. And breathed again. The porch banged. Eyes wide, Demi threw a quivering glare at the window. The window with the decaying frame her mother once said she would fix. The window from which Mother Nature stared at her, threatening a morbid rainstorm later that day.
Demi slowly unveiled the blue duvet from her hips. Slowly again, her pale, quavering feet slid down the sofa, then resting on the cool wooden floor. Now she sat, hands clutching the cushiony edge of the sofa. Breaths quavering weakly, under the mercy of her
fear.

It was normal for fear to give a person the bravery to run. But it was also normal for it to give Demi the bravery to confront the danger. Demi stood up.


"Stop" Demi heard someone say. The voice was as smooth as a trickle of water, hypnotically running between the wrinkles of a silk cloth. "Stop!" The voice was soothing, yet sharp enough send a surge of pain that jabbed Demi in the heart. And Demi did. She stopped. Still. Statuesque, with the exception of her imperceptible glare, flitting without Demi's permission, to the window. It was a man's voice. The faint echoes ringing in Demi's head challenged an unwanted conclusion to that. Her chest bulged, sucking in a breath that was too oppressed by fear to come out again. It was quiet now. The muted sound of Demi's breathing made it easier to listen for the voice again. And she did. Listen. Breath held tightly. Demi listened.
Little black dots pranced in front of Demi's eyes. They seemed surreal; little pixies dancing whimsically to a mute tune. Demi was amused by this, but then she could now feel the weight of her own brain. Getting lighter. She was dizzy. With a loud puff ,Demi released her breath . The black dots faded, and the dizzy spell lifted off her. The man wouldn't speak again. Maybe Demi had imagined it. She sat down again, hands clutching the cushiony edge of the blue sofa.
"That's a good girl", the man said again. Smooth. Generic. Cold. Just then, Demi's heart thudded. Goosebumps bulged in tiny little nips. Covered Demi's pale arms. She clutched the sofa tighter. "Wh-who's there?" she breathed out. Demi would scream. She had------"Speak only when spoken to. Do not alert anyone by screaming". The man had read Demi's thoughts. His voice had come colder than before. Sharper. Confirming that Demi was indeed in danger. "That's a good girl" he said, after listening to Demi, silently shivering.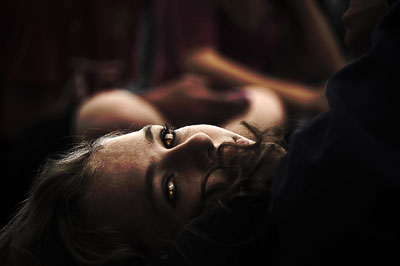 © Calvin C., Salt Lake City, UT