The monster
September 25, 2010
The monster is coming. I could see that it is angry by all the racket that it made. I could see it coming from the distance, all dark and mysterious, but deadly all the same. I knew that when it hits, its anger would be destructive so I locked up all my doors and barred my windows, waiting for when it would arrive.
This was the agonising part...................the waiting. With every second that tick away, I know that it is a second closer to disaster. I knew that it was coming; I knew that it was looming, but when it finally arrived I was still shocked.
I could hear all the ruckus that was going on outside. I know what was happening is dangerous but I couldn't but to take a look. I crept up to my window and looked outside staring at the destruction that was taking place.
Trees were being up rooted and being thrown about in the monster's wake, people's roof's were being flung about like pieces of paper and the car's on the street were being trampled on where they are parked.
Even when I was thinking why this angry monster had to come upon us, I couldn't help but notice the destructive beauty of the monster's anger, all grey and flashing.
I retreated from the window to wait out the rest of the monster's wrath. Finally, after what seemed like days, but was really only some hours, the monster have moved on to demonstrate its anger someplace else.
Everyone ventured out of what was left of their homes and analysis the damage that the monster have created, as I looked around and watched the grief stricken faces of those around and I looked at my own partly destroyed home and I know that no one could stand up to one of mother nature's monsters.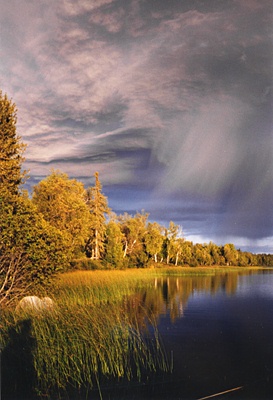 © Dustin B., Nikiski, AK