Vamp crimes, Chapter One
September 14, 2010
It was last week when the new girl came to school. She was the typical blonde ditz, always giggling, flipping her perfectly blonde hair, and of course the drooling boys. Me personally I think she's a wanna be britney Spears. But my opinion doesn't madder, cuz' I'm the loser kid always in the back of the room being invisible. Actually being invisible is quite easy and fun. You can always know whats going on when people don't think your listening, like off doing whatever loser kids do, well thats what the witches with a capital B say. Me and my friends are the only vampires in this school, but no one knows that. At night were off doing the norm Drinking blood out of bottles not strangers ( essh) doing normal teenager stuff like tee-ping the witches homes.


We as in my friends Elly, Liz and Brian, we sit at our own lunch table, which I'm going to right know.
" He Lilly, over here!" yells brian
" okay" I yell back.
I sat right next to Brian and put my little lunch sac by him.
I was getting ready to say something about him being to close to me when I heard a scream.


Thats when all hell went lose.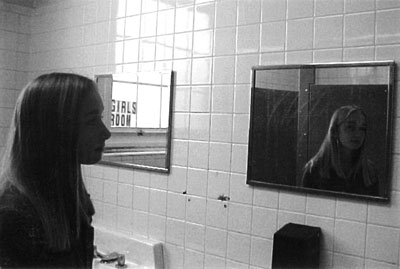 © Jill H., Pompton Plains, NJ