Guilty Criminal Free, Innocent One In Jail
August 26, 2010
Guilty Criminal Free, Innocent one in jail
Day T. Day T. What kind of name is that? I thought to myself. What could it stand for? I had been assigned a case. "The case of Day T'. I was headed to the juvenile jail where he was kept. As I was driving across this two lane endless highway scary thoughts were going through my head. This made driving to a juvenile jail scarier than it already was. The first thing to be scared about was that as a new lawyer for the New York City police department or the NYPD, I was headed for my first case. The second scary thought going through my head was the thought of seeing wild and unruly criminals aged twelve to seventeen when I got there.
Finally at what looked to be the end of the dusty, rough, two lanes, and unpleasant highway, I saw a rusted sign with an arrow that said, The John Warren Juvenile Detention Facility. As I made a turn into the facility, I saw a large building across a giant field surrounded by fences with a minimum height of at least ten feet. After seeing that I knew I was in the right place. The only place without fencing was a small narrow door so I assumed this was the entrance and I went inside. I saw a sign that read main office so I followed the arrow on it going straight ahead. As I was walking I saw many teenage boys in orange uniforms giving me strange looks with raised eyebrows.
When I finally reached the office I saw a man with a brownish moustache in a white shirt wearing a New York Yankees baseball hat sitting on a chair reading the New York Times. There was a name plate on his desk that read Mr. John so I assumed this was his name and called him.
"Mr. John?"
"Yes. Can I help you?" he said not looking away from his newspaper.
"Yes actually you can help me. I'm from the NYPD, and I was wondering if you can tell me where Day T is. I'm his lawyer."
Mr. John put down his paper and said, "He's standing right behind you."
I turned around and saw Day T staring at me with a raised eyebrow. I asked Mr. John if he could give me Day T's file. When I got it and turned around Day T was gone. I decided to go look for him. As I was walking outside I saw boys that were rather well behaved for criminals. I barely remembered Day T's face. This made looking for him harder. I was almost ready to give up when I saw a boy sitting on the ground writing something down on a piece of paper.
"Day T?" I asked.
All he did was hand me the piece of paper and walked away. What was with this guy always appearing and disappearing in a blink of an eye? I decided that he was going to be of no help so I headed home. While driving home anytime I got the chance I would try and glance over at Day T's file and the strange note he had given me. By the time I reached home it was about nine thirty at night. When I got home to my two bedroom apartment the first thing I did was sit down on my leather sofa turn on the news and start looking threw Day T's file. I found out that he went to a school in The Bronx an area not too far away from New York City. He was also from the Bronx projects. It also said he was charged with first degree murder of his best friend Shawn. He was raised by a single mother along with three siblings. He was part of a gang from school called the Lions. The last thing it said was that his family could not afford a lawyer and there was no evidence that he was innocent so he was sent straight to jail. Then on the news the crime segment was on. Something caught my attention and made my mouth drop. I heard the news reporter say,
"The NYPD have confirmed that a boy named Day T has ran away from the detention facility he was being held at. The description of him is as follows."
That was all I needed to hear. I knew what he looked like. I was in so much shock after hearing the news report. Why would he run away? I was trying to help him out of jail. Why would someone not want to get out of jail? Was it such a nice place? I headed to my kitchen to get dinner started then I saw someone sitting in the dining room. I let out a scream and in shock and confusion I said,
"Day T? What are you doing here? How'd you get in my house? Why'd you run away?" All these questions just came out of my mouth. He replied saying,
"I snuck into your car after I gave you the note. Did you read it yet? It's important that you do. It'll answer a lot of your questions." I opened the file and took out his note. I was even more confused than I was before. The note written in messy handwriting said, "Leave me alone I deserve to be in jail if I get out of jail bad stuff will happen you don't have to prove my innocence. Just leave me alone." I looked up from the note and said,
"What is this Day T?"
"There's something you need to know about me. Why I'm in jail and why I can't get out. This is my story. It was my first day of high school when I joined a gang. We called ourselves the Lions. We weren't such a bad gang we only stole things of small value or got into a couple of fights. We rarely went to class unless we got caught. One day a guy named Shawn joined our gang. He soon became my best friend. He taught us how to be good and soon we stopped doing the bad things we did. Shawn had a bad past and present. His dad was in jail most of the time. He was in custody of his brother who was involved in the city's most dangerous gangs and committed crimes almost every day. He made Shawn work three jobs for them to get money and did nothing himself. It was late one day and we were coming home. We were in the dark alley that led to Shawn's house. Then we saw Shawn's brother coming towards us. We could tell he was drunk. He kept saying, "where's my money where's my money." Shawn tried to walk past him but then his brother grabbed him by the neck and pushed him against the wall. The other guys ran away saying they'd get help. That left me there. Shawn told me to take out my knife. I asked him what I should do with it. He told me to stab his brother. I told him I can't. Then his brother came up to me and started saying, "yeah come here come and stab me you're not going to let me hurt your best friend like that." Then before I could do anything he took the knife from my hand and stabbed Shawn. Then he said you're next. Then we heard a police siren and a cruiser approaching. I got happy because I knew they could help me. A police officer came near us with a flash light asking what's going on here. Before I said anything I turned around and saw that Shawn's brother was gone. It looked like I had done the whole thing, even though I was innocent."
"So you didn't kill Shawn?" I asked.
"How could I have killed him? He was my best friend."
"So then if you're innocent why don't you want my help you to get out of jail?"
"There's more to my story. I was raised by a single mother along with my three siblings. They're the only family I have. My mother couldn't work because she had to take care of my other siblings. I was the only way could get food and water. While the police were taking me down to the station I found a note in my pocket that was slipped in by Shawn's brother. It said that if I went to jail taking his name he wouldn't hurt my family and would supply them with money. He said that if I told anyone that he did the crime and escaped from jail he'd kill my family. So I took his name and came to jail taking the blame to protect me family."
"Wait a minute," I said. "If you took his name that means that you're not Day T. You don't have to worry nothing will happen to your family. You can't spend years in jail for something you didn't do."
"My real name is Mike. Nothing that I just told you can leave this room. I'm not willing to take the risk of losing my family."
"Nothing will happen. You have to trust me. I could lose my job and end up in jail if I stay quiet about this."
"I can lose my family if you say anything about this. The choice is yours." He walked out the door after that. What was I supposed to do? I could risk killing someone's family and helping someone out of jail or stay quiet about the whole thing and risk losing my job.
Three days had passed and Day T who was actually Mike had been confirmed to have returned to the facility. I headed down to the facility carrying a newspaper showing what my final decision was. I walked inside and looked for Mike. When I found him I gave him the newspaper.
"What's this?" He asked.
"Read it out loud. You'll understand."
He started reading. "The headline says, guilty criminal in jail, innocent one free, and family safe. You didn't." He said.
"I did." I said.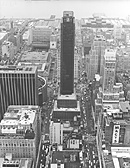 © Palema T., Norwalk, CT