Happy Halloween......in August
August 18, 2010
Once there was a very unpopular boy. Thanks to this fact he was often tortured and teased by his more "In" peers, those who thought he was nothing. One day after a particularly brutal prank the poor, nameless boy went home and stole his father's gun. He went back to school directly after and while all others were still eating, he walking into the center of the cafeteria and here's what happened. With the gun in hand he walked in front of all those who had made him miserable and aimed the gun at all of them smiling. As he came to the meanest of all them his grin reached ear to ear.
"As if you have the guts." The popular boy scoffed. The fact was he wasn't completely wrong. The smiling boy had no intention of killing any one of them. He slowly brought the gun to his head and still smiling he pulled the trigger. Everyone gasped as blood, hair, and brain matter splattered all over those around him. As his body fell to the floor all those in the room felt a sense of cold and dread.
About one month later after everyone had forgotten about the unpopular boy's death something very strange started to happen. Suicides began to happen all over the school. What was even stranger was that everyone who had been found had tear streaks on their face. One day the very popular boy was found in the boy's bathroom crying with a gun at his head.
"Please!" He kept saying. "Please, don't make me do this!" Then as his face contorted in terror he pulled the trigger and fell to floor in a pool of his own blood. So what do you think happened? Happy Halloween!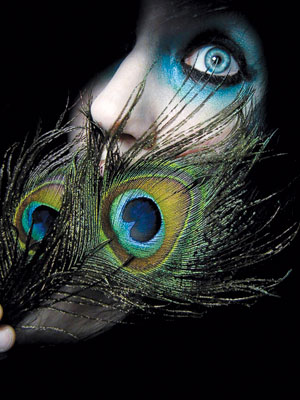 © Davina G., Abilene, TX