There was a drop.
August 12, 2010
There was a drop, a splash, a coin – falling down a well perhaps. Blair wasn't sure, the sound was certainly common. Another splash! Was it behind him? There was an echo. Wherever he was, it was lit by a wan light, barely enough for him to consider his hands before his face. Hearing another chime Blair turned, sure the sound came from behind. He held his hands outstretched in front of him and walked forward. Something darted by his leg! He turned, fast – but too late! The sound bounced around him, splashing. Certain there was something in the room – for he was sure it was a small room now – he crouched down low, holding his arms out to his sides. The air smelt foul, a faecal stench permeating the shade. Blair moved slowly backwards, his eyes darting aimlessly from side to side, glancing from shadow to shadow.
He toppled into a wall, screeching in surprise – for he thought it was an animal. He heard scurrying around him, left and right. Putting his back up against the stone wall, he collapsed onto the cold stones. He felt something brush up against his hand, pulling it back instantly – whatever it was started crawling up his left leg until it sat on his thigh. Blair's eyes bulged, unblinkingly studying the creature. It had no eyelids, and two gold pupils greeted his stare. The thing slid down to the floor and started into his left legging. This brought a screech – Blair shot up and kicked his left leg into the wall, trying to dislodge the creature. But this just made the creature work higher, until he felt it around his thigh. He began screaming and ran into the middle of the room. He slipped! After he put his foot down it met nothing but air and collapsed into nothingness. He fell down, down, down ¬– eventually splashing into a thick pool of water.
The creature was gone now, having fallen out, but he was in total darkness. After fishing his hands around the water, he found the chasm to be small, barely three feet in diameter – a well. The smell was unbearable, and Blair emptied his stomach several times until there was nothing left to come up. He was covered in what looked like tar, along with demoralising tendrils of defecation. His feet could reach the bottom – what felt like sponge – and he had fallen well over twenty feet. He realised there was no way out, just before the creature appeared out of the faeces and dived onto his face.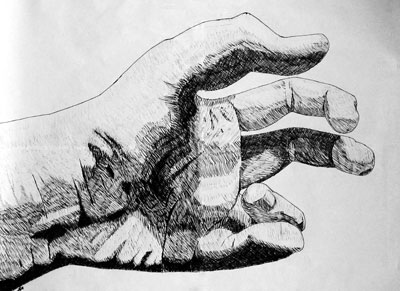 © Luke S., Montclair, NJ