Ready
August 1, 2010
I watch the moon all night. I sing until the sun rises. Then I go back to freedom. To being whoever I want with no consequences.
"Move on," they tell me.
"I still have things to do," I always say back. I am not a liar.
"There are other things."

"But I still have life to live here." I am stubborn, my mama used to say. I guess I am.

I guess that's why I am dead.

It's not ever clear. The day I died. Everyone else recalls it perfectly. I don't want to remember. All I can pull back to my mind is a robber. And the barrel of a gun. Something...something about money. He wanted money. I don't think I wanted to give it to him. That's all. I wake up with no body. I watch my funeral, I sit and stare at my mama's tears, wondering if they will stop. Dripping like a faucet.

I like being dead. I can sit by the homeless and listen to their insane banter without people thinking I'm mental myself. I can watch the guitar strumming hippie in the park for as long as I want. I can chase butterflies and no one thinks I'm a kid.

I don't want to move on. All of the souls I meet nearly sprint towards the Otherworld, or whatever it is. That blinding light. I stay behind, saying I'll be there when I'm ready. I do miss popcorn though. Ever realize how delicious popcorn is? That buttery mess of air popped goodness that makes things like the theatre and a break-up seem so much better. My heart aches every time I see a hand delve into that fattening tub.

I also miss the aroma in the air after it rains. I used to open my mouth and suck it all in. I miss feeling dirt under my toes, squishing. I miss the warm flush you feel every time you step into a hot bath after playing in the cold. I miss the scratching of pencils around me in school, everyone so focused on one thing.

I sit in the park, watching the guitarist, thinking of popcorn and pencils when I suddenly want to get out of here. I want to discover new smells and new tastes of whatever lies ahead. I don't want to miss what I am leaving. I want to search forward to new beginnings.

I look ahead and blink to the intense white. The soft hum in my ears. The beckoning to a new existence. And suddenly I'm sprinting.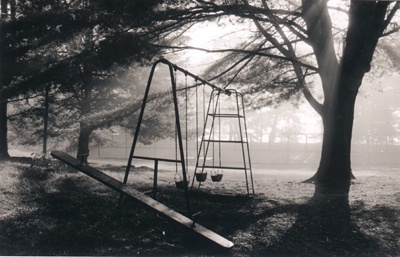 © Steve S., Marblehead, MA