Irreversible: To Be Great
June 17, 2010
Five years ago today, our savior died; now cities quiet, candles glow, tears are shed, mother's do not hush happy children, but drift into quiet contemplation with their fellow nation. We have a moment of silence remembering the legend—the man who saved the world from self-destruction. All of our schoolteachers ask us to write letters to a dead man, to whom we owe everything. All but one; this teacher is respected within this community. He has lived through many wars—and that in its self is unusual—but this man also still offers our community his wisdom.

He does not ask us to write a letter. He asks us who died today. We don't answer because we all know; it seems redundant. He asks us again, in all seriousness, and tells us we mustn't use any names. "A savior," says a boy, and many more soon follow: legend of human history, a leader of nations, defender of mankind, the father of the modern world, a man who united the world, a great man…

The old man stops us then. He quotes Emerson: "To be great is to be misunderstood." We grow distinctly uncomfortable, squirm in our seats, nervously eye the classroom camera lens. The veteran says, "Four billion, he killed and had killed—in the name of peace, salvation and hope. Every boy born on this earth is born the sole property of the World Peace Army, living for the WPA, never granted the human right to choose a life for himself. Every human being is registered into the Human Gene Pool Network at the tender age of sixteen and within the year are assigned suitable genetically-compatible partners; the concept of love today is a foreign one—archaic and strange. Doesn't it bother you—any of you—that you will never experience the best of what humanity has to offer? Are you consoled by the promise of parenthood? Boys, you will never see your sons or daughters. Girls, most of you will be determined unsuitable guardians by the government! You will create life and have it torn from you." He storms to the small camera and holds it in his hand, "Do you not mind your every twitch, every word being observed and recorded by people who decide your fate forever? I do! I mind! The world is not supposed to be like this. We are not supposed to be like this: pawns in some unseen syndicate. And this man—this man we grieve so religiously—he created this. He did not save us; he destroyed everything that made us important. We grieve him and we fail to see that his death was the greatest mercy humankind has ever been granted!"

We choke on our gasps, hear one girl smuggle a sob, and jump at the classroom door slamming open. "Sir," says one of our dear teacher's many executioners, "please come this way. This woman will take over your class." We watch with wide eyes as he looks at us all one final time and strides to his fate. The door closes, leaving us with the strange woman, and we struggle to regain ourselves.

She smiles and says, "How about we write a letter?" and the class laughs in nervous relief.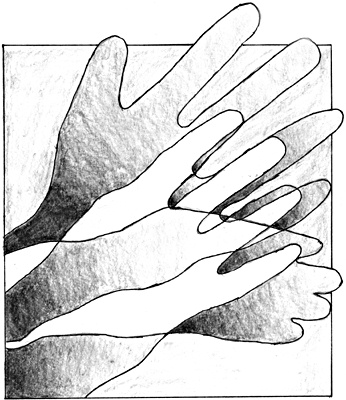 © Dawn Grace R., Barrigada, Guam