Why?!
June 12, 2010
I walked home from school with thoughts of homework, rage, drama, and a strange feeling that you get when you think something bad is about to happen.. I tried to ignore the feeling and hummed a song i didn't know the words to. There was a sudden sound that echoed across the street, a gunshot perhaps or maybe it is a fantasy. As if I was Red Riding Hood, skipping across a path to Grandmother's house, only to meet my own fate by an imposter. I whisked back my red hood and skipped past Mulberry lane while smelling the muffin Man's newest creations. I felt as though someone was following me, watching me. I acted as though i didn't care, even though i was frightened out of my wits. I could see a billow of smoke coming from a chimney. Grandmother's house. I hurried along, tripping over twigs and rocks, trying to get away from the unseen stalker. I took the final step towards the door and twisted the knob. SANCTUARY!
I called her name and heard the frail voice of her, strangely low or... snarley, if thats possible. I took slow steps to her room to check on her. She looked fine but she had, so much hair, and-oh my! What teeth she had! So sharp and... yellow. And her arms were unusually muscular and strong looking... I sat next to her on the bed and commented on all these strange attributes. She lauphed and opened her mouth wide enough to swallow a sumo wrestler.


I almost wish it happened that way.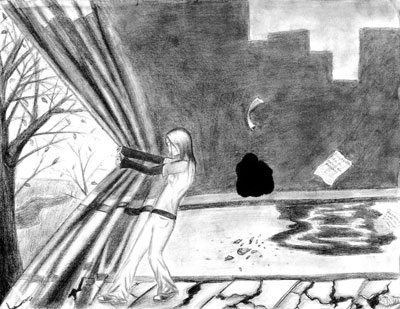 © Willow L., Nevada, IA