The Dark Side of the Lost Garden
June 1, 2010
It all started about 12 A.M when the little girl fell fast asleep, wearing a light pink and white colored night gown. As she lay fast asleep, she dreams of little, white, fluffy bunnies roaming around. Yet, she isn't sure if she is awake or asleep because it's so surreal. As she sleeps, the night turns to morning and the morning turns to night.

As she follows the cute, little, white fluffy bunnies around, they led her to a path she has never seen before and its beautiful. She comes to find a beautiful garden. There were giant beds of pink, purple, white, blue and yellow flowers surrounding the entire garden along with statues of gargoyles and fairies. She doesn't come to realize that no one had ever come across it before. The little girl went to explore the garden a little more with the bunnies. As she got deeper and deeper into the garden, she finds out that it's magical. The only magical garden in the world. In this garden, she finds fairies, and magical creatures who welcome her to their home. The little fairies in the garden pop up from the flowers here and there. The garden is full of fairy dust, neon blue magic slick slim, and beds of fairy-flowers. For every flower with a fairy in it, the little girl gets one wish. She wishes for more magical things to appear. She thinks this is the best thing that has ever happened to her.

The little girl was so caught up in the magical creatures that she didn't even realize where she was going. She had been following them and wishing for more and more things to appear out of nowhere. Here and there, little magical things happen. Little things such as, eatable candy trees, candy grass, and everything around her turned to candy. As she walks into all of the candy around her, she gets deeper and deeper into it and eats everything she can get a hold of. The little girl walks over the bridge to get over the strawberry Chocolate River to get to the other side of which now is all a candy garden. As she gets to the other side, it turns into a forest that is dark and scary. She can't even see her hands in front of her face, the sky all around her is jet black. The little girl walks around by trying to move only by touch. Yet, she cannot see anything around her so she doesn't exactly know where she is walking. Earlier that day, she wished that she could see a haunted ghost and feel them so she knew it was real. As she moves about 200 feet to the left, she sees a light come from the moonlight sky.…………..no one had ever seen the little girl again.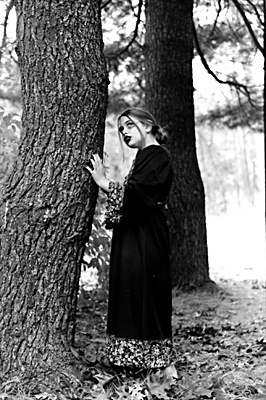 © Pamela T., Norwalk, CT