A Living Nightmare Intro
May 17, 2010
I wonder if whispering in the midst of the dead, will make the nightmares go

away. I

was told that every time you do a bad deed, you should always expect a

punishment.

My parents are happily married, my mom is a full time psychologist. She tells

everyone they should feel good about themselves, yet she's unaware of our

family disputes. Mom tucks me in every night, she shares with me stories of her past and tells me fear will never strike towards me. Mom told me that I had a god father, and that he was my guardian angel. She said he would protect me when I wasn't safe. All I had to do was call on Aspiss, and never would I be scared again. I believed her. Dad was an underachiever, he was always getting laid off at work, and made Mom bring home all the bacon. He was always around, you'd think every little girl would enjoy this. My mother named me after my grandmother, Rose. She's an attorney, the best in Kansas I'd say. Mom would share with me how she was a cheerleader and very cool in school. I wanted to be just like her. If I dream on, I could, but dreams became nightmares, and nightmares became reality. Every tear has a story, so I'll cry for the life I had, and not for the life I took.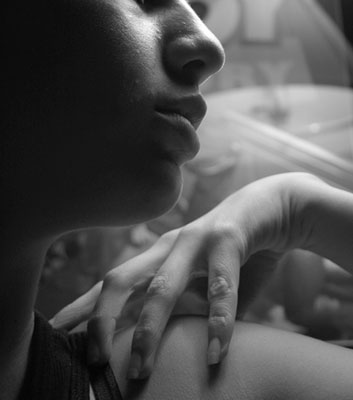 © Rebecca B., Santa Clara, CA