Lucky
May 20, 2010
Quietly he lies on the street of Lucky Avenue in solitude. Luckily, the roof above him shelters him from the falling snow. The snow does not stick due to the heated ground; so luckily, he would not have to lie somewhere else. Outside and near the corner of the Lucky Café (where he is resting), there a small delicate blanket quietly experiences the same fate as the Vietnam veteran. He walks over trembling and grabs it by his cold and numb hand, clutching it for his life. Wordless, he painfully walks over and sits, crouching in a ball, on the outside walls of the Lucky Café, wrapping the blanket around him. What was he doing here? What happened?

April 30, 1975, the day he deported from Vietnam back to the United States. The war luckily was over; enough blood had been shed already. Six total years of fighting to return back to the streets with no food, no home, and no family. Lucky Café's best customers, a group of 6, always give he a stare of derides.

"Why do they give me that quizzical look?" he complains to himself.

"They should be respecting me for all the matter. I am the one who sacrificed my life for a good cause. How dare them!"

He ponders. I mean, think about it, does it make sense? A commander who is ridiculed by his own country citizens, fighting to save others from Communism, deserves to be mocked? He thinks for minutes, hours, days. Just crouching there; desolate and solitary, without any caressing from anyone. What a lucky life.
There came a pause in his mind as he scratches his chin. The most cunning and crafty idea enters his head as anger builds up. Where is he getting this idea from? Well, it feels satisfying. What luck?
He evilly grins to himself as luck just grips him tightly. He has never felt so confident after the Vietnam War.
Slowly and leisurely he walks to the Vietnam Memorial. They cannot discourage of what they cannot remember. He kindly smiles walking around, enjoying life.
"Good afternoon," he greets a couple.
"Hello!" compassionately the girl says.
"May I ask you a simple question? I am doing a survey."
"Go for it," the man kindly replies.
"What would you say if you were to die today?"
"That's not simple," she giggles.
He sincerely says, "Just answer the question."
The man bewildered stutters when he answers, "I w-w-wouldn't say anything. I w-w-would diligently try to ac-c-complish all the things I dr-dr-dreamed of doing."
"Like what kind of things?" he smoothly replied with a smile.
He gave an unsure stare and gingerly answered, "Winning an Olympic gold medal, have children, etc."
"Interesting sir," he teases, "just remember that anticipation is the key to knowing your future."
With a sense of confusion he slowly responds, "Uh… ok. See you around." The wife gives her husband a strange glance while walking off to continue looking at all the names on the black wall of the Vietnam memorial.
The veteran walks over to an old man. He taps him on the shoulder.
"Hello. What would you say if you were to die today?"
"Excuse me, do I know you?" he inquires.
He firmly says, "That is irrelevant. Please answer the question."
"Have we met before?" he slowly says while adjusting his glasses.
The homeless man calmly repeats with an awkward smile, "That is irrelevant. Please answer the question."
"Well," the man replies with a higher pitch of tone, "if you really want to know, I will tell you."
The retired soldier crosses his arms trying to hide something, intolerantly expecting a quick answer.
"I would honestly not mind dying because I, by God, have been made to live a certain length of time on this earth, and I do not know when that is. Only God does. And if it is my time to die, then it is my time to die."
Suddenly, a small tear drips down the man with the blanket's cheek. He remembers his best friend dying in the war of a bomb explosion. Maybe he died at the right time. Who knows?
With a softer tone, the veteran spoke gently, "Thank you. That touched me."
What a lie! The veteran smiles, "Just remember, anticipation is the key to knowing your future."
No response from the old man.
He, with aggression proclaims to himself, "I have heard enough!" Now, the moment is perfect. Unfortunately, his confidence wanes. "Maybe God intends they die now," a mysterious thought enters his head, not by him. "Maybe their time has come, and it is my time to end it," he shakes his head, focusing.
He leisurely walks behind the multitude of people looking at the wall, crouches extremely slowly, and luckily, no one notices him. Oh what vehemence he has. The awkward silence strikes time. He sweats like a hurricane. His body shakes. He examines everyone walking around. Should I really do this? Does mocking equate to death? How much would their lives change? The whole future would change. He gradually takes his hand off his waist (which was hiding the bomb), and shaking horrendously, attempts to press the button to unleash the blast.
Don't do it. Do you hear me? I said don't do it! Heart pounding and stomach stinging, it brings such pain to him. Time seems slow, sweat dripping out like rainfall, struggling for his life to decide to suicide. I'm warning you! You better not push that button!
He presses the button and all matter froze in his mind, and he exerts the largest breathe he had ever put forth. He struggles to inhale again.
Nothing happened. Everyone is still here.
Shrug.
Tick, tock, tick, tock, huh?
Who is that? Wait! Stop! What are you doing? No! No!
Instantaneously, bang! He is shot, lifeless.
The killer step, by step, by step, quietly walks over to the dead veteran (no chaos from the tourists looking at the wall, not even a sound from anyone at the memorial) and murmurs with a smile, "What would you say if you were to die today?"
What luck?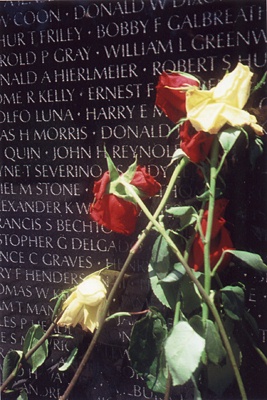 © Justin R., Angola, IN