Colour on the Thames
May 1, 2010
Our second week at 221B Baker Street had ended .Adam was very disturbed. I hadn't expected him to be so great a designer but the way he shaped the house was amazing.His disturbance was a cause of slight worry for me.
I asked him"Adam ,what is that troubles you on a Sunday morning?"
"Nothing I am just annoyed for having no work for the past two weeks.Crime rate has lessened in London."said Adam
"Instead of waiting for crime to come look for you why don't you go and seach it yourself."
"What are your plans for today?"
"Nothing just probably thinking of going for a walk down the Thames."
"Great then we shall find crime there."
Taking a cab we reached Westminster Abbey and then walking about 200 meters we reached Thames.
"So where is crime here?"I said in a mocking way to tease Adam.
"There"he said pointing right in the center of the river and when I looked I saw blood floating on the river Thames. Throwing me into the river he jumped into the river after me and we swam in the might cold icy water.
In most cases of murder there is a dead body, a bunch of clues and then we have to form the chain leading to the killer but in this case there was only blood and no body. While we were in the water we also saw The Scotland Yard officials chasing us. Then when we reached the point where we saw blood we were shocked to see blood but no body.
"Joseph this person's body is not in the river"
"How do you know?"
"A simple theory my dear friend ,The blood is spread all over,it hasn't formed a clot ……
By this time we were out of the river and were letting Scotland Yard do its work.
"See "Adam said"I have bought two cups of water. He placed his magnifying glass at the coffee shop table and then said "If I cut just a little hole in the cup and then start moving the cup,this sort of flow of water is formed on the magnifying glass whereas on this other cup if I pour it down from above without moving the body a clot is formed."
"So what you are saying is this person's dead body is in the air?"
"Yes ,and not is it is was"
"How do you know this person is dead?"
"Joseph have you seen the amount of blood that is found on the river, if that person was alive at that time then he was dead probably a minute or two later because a person cannot survive with so much volume of water flowing out of his body"
I asked ambitiously"Was this person murdered ?"
"Absolutely"
"Oh my god, how do you know about it?"
"Let's go down further the river.One should never forget his true purpose of coming to this place."
As amazed as I was I started walking along with Adam.
I asked "The Scotland Yard is going crazy searching for the dead body in the river shouldn't we tell them?"
"No…..Their search will give us some clue in solving the case"
Suddenly he pulled me by my wrist and pulling me he started running towards the forest.The forest was covered with smoke originating from a point approximately 200 meters from us. We ran and when we reached we discovered a shattered plane.
There was a dead body in it and Adam ran into the smoke whereas I stood behind and watched him disappear. Twenty minutes passed by and there was no sign of him.Just as the twenty-first minute began I saw him carrying that person's body and coming out of that shattered mass of plane and the cloud of snow I could clearly see that he was panting and was covered in black coal along with torn clothes. I took the body from him and laid it on the ground.
"This is an interesting case "he told me
"Yes,it is"
"The person that we found is Mr.Ronald Stump ,the leading RAF(Royal Air Force) wing commander. He is the highest paid RAF commander presently and he has been murdered. I also found a piece of paper on which was written 'Q.E.D.' I am pretty sure this is the reason for his death"
"Why?"
"Q.E.D. stands for Quad Erat Demonstrandum which means 'that which was to be demonstrated'. There was an air show going on over Mayfair a few hours before his death and he wrote this while he was in air. The plane was perfectly alright with lots of fuel inside it so he did not die of an air crash."
"Let me get it straight, you are trying to tell me that someone was in the plane or someone got into the plane then killed Mr.Ronald and then vanished."
"Yes, and he was hiding in the plane."
There came the Scotland Yard and Adam suddenly disappeared into the woods. I was questioned for approximately two hours with me lying .I told them that I was just roaming about in the forest when I saw this dead body and was to tell it to you when suddenly you people appeared and I without any reason was an accessory to murder. Reaching home I was welcomed by Adam who said
"Sorry Joseph but these facts were of far greater importance in solving this case and I wouldn't have risked giving it to the Scotland Yard."
"What did you do in those two hours ?"I asked
"I just sent a telegram"
"Where are the stolen facts?"
"There on the table."
There was a small iron scrap, a piece of paper and leather.
"What is this leather?"
"This was the seat cover."
"You haven't gotten the murder weapon.?"
"No but I know it is a 12 inch knife with one sharp side and other blunt. This was a used knife .As far as the murder's identity he is a 6 foot tall man, a left hander, walks with a limp and had carried a parachute along with cigar in his pocket. This person hasn't killed Mr. Ronald of anger."
"Adam, How did you come to all of those conclusions?"
"Well, these are pretty simple ."
Taking a knife and a piece of cloth he tore apart the cloth with that knife.
"The length of this torn cloth is 8 inches and similarly the length of that cut is 8 inches. If you hold a knife you insert the complete of it only if you are in anger whereas if you tore it apart or insert it as if you are slicing a cake it goes inside 8 inches as there is always some place left. He was a 6 foot man because before jumping the distance between his legs was that which is normal while he is standing makes me calculate his height .The footmark of the right leg was more intense and deep than the left leg, this indicates that his left leg had a limp. As far as the left handedness it is quiet a common fact that right handed people strike on the right side to people facing their back whereas left handed people hit on the left side"
"As much as I am amazed with your simple conclusions I have to ask you one question"
"Pray do so."
"Have you narrowed down this person?"
"I am waiting for my telegram"
Two hours passed and then came the reply to Adam's telegram. He opened it .
"Joseph are you ready for an evening stroll?"
"Yes I am"
With no idea whatsoever as to our venture forward I followed him into the cab then we went to RAF training place then we were introduced into the cellar where we found only one person sitting handcuffed and that person matched to the complete details given by Adam.
"You must be Mr. Jamie Cloud"
"Yes but please before taking me to the police please listen to my story."
"Pray begin"
"My name is Mr. Jamie Cloud. I am the left wing commander of RAF. I was already hiding in his cabin when he appeared. He was the most respected person on this RAF Academy. I had only one reason for killing him was him killing my brother. Have you heard of Mr.Akio Cloud?"
"Oh yes, I have. He died under mysterious circumstances two years ago."
"He was murdered during flight and he had murdered him for this post .I wrote Q.E.D. because these letters were found with my brother's corpse. I killed with a 12 inch knife not in anger but in regard. I used to respect him a lot but after my brother's death I had lost all of it. It is for you to decide what to do with me? "
Grabbing my arm again he took me to the door he said "If anyone gets to know of it then……"he told Mr.Jamie
"No sir I won't"
Outside the RAF Academy we met the Scotland Yard. They asked us if that person was the murderer"
Adam gave a swift reply" We got the wrong person"
Half an hour later we were back at 221B Baker Street. I asked him "Why did you lie?"
"That person was telling the truth and moreover there is mercy"
"One thing you got wrong today "I said" it is not telling the Scotland Yard the case for their research will find something.It didn't"
"Yes it didn't"
"Since the case is solved from our point of view I have to ask how did you reach that man Mr.Jamie Cloud and why did he reply so quickly to all our questions with no hustle of any kind?"
"Joseph this case was quiet clear from the moment I saw the blood.You see all these clues were turned iron rods and they together form a chain. When I went inside the plane I was sure that this man was murdered by someone from the RAF because how swiftly he had jumped and how he had steered the plane to a safe zone then jumped off made it clear. In the telegram I asked for a left-handed six foot man working in the RAF.I told them to handcuff that man .When we reached seeing me he started blurting out every of the possible facts he knew. I had read it in the newspaper and he had even consulted me for his brother's death but I had left him because I was already working on a case at that time. Seeing me he swiftly replied everything because I can catch people lying very fast ,it is in their eyes. "

"You should publish a memoir of your extraordinary cases "
"Why don't you do it?"
"I will".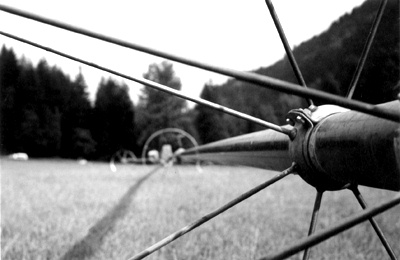 © Lydia D., Seattle, WA