The Red Coat
April 26, 2010
It was a dark day at Camp Lunakanda., and four girls decided to go to the forest by the riverside. Sheila, the quiet one, was frightened, and who can blame her, she was the youngest of the group at age ten and every tree she saw, looked like a person in the shadows. The leader of the four, Blanca, was keeping the girls from chickening out. Sara and Tara, the twins were whispering and laughing at Sheila, the forests are quiet, and Sheila hears every word.

She was quietly thinking about why she came here in the first place, but she keeps reminding herself that she would be accepted in the social circle back at camp.
She secretly brought her teddy bear, which she keeps with her at all times. For the summer it was very cold and the four girls were shivering. After a certain point the girls stop at a metal gate.

Tara says, "Why are we stopping here?"

"Well, no one knows what's beyond the gate."

Sheila knew what was coming. She knew it all along. The real reason Sara and Tara let her come on this little adventure in the first place.

"Yeah, maybe we need someone to go check it out for us."

Sara said it with an evil grin. Blanca wasn't so sure. She knew this was going to happen, but she thought the girls would return to the cabin by now, it never crossed her mind that the four would actually reach the gate. It was infamous among all the little campers. Some say that an evil spirit lurks in every shadow; others say that a monster the size of an elephant lives beyond the gate for a snack.

Sheila held the teddy bear real tight.

"I… I'll go."

The simple words shocked the three girls. Blanca had to do something to prevent Sheila from going, but like Sheila, she was also afraid, so the brave words never quite left her mouth.

Sara and Tara both said in unison,

"Oh thanks, you're so brave Sheila"

Their annoying high pitched voice really didn't make Sheila feel any better.

"We'll see you when you get back. Tell us what happens okay?"

Blanca felt terrible. Those words made her feel like a coward. Sheila, the ten year old girl in the red rain coat turned out to be the bravest of the four. She crawled under the gate. The moonlight helped her see throughout most of the forest. Blanca, Sara, and Tara waited, and waited. There were no sounds of footsteps. The three must have waited for hours.

Suddenly, the three heard a shriek that echoed throughout the entire forest. Blanca couldn't take it anymore; she pushed the gate open and ran. Branches and twigs hit her face and stuck to her hair, but she still knew she had to help Sheila. It was a mistake to bring her in the forest.

After running a quarter of a mile into the forest, Blanca sat down on a tree stump. She was lost, tired, and there was no sign of Sheila. She looked around and there it was Sheila's teddy bear. Its arms were missing, and some of the stuffing was pulled out. Blanca went closer to the teddy bear. The sight of a broken teddy bear brought tears from her eyes. She usually wouldn't cry for something so minuscule, but she felt a sad presence around it. Blanca started walking back to the gate. Maybe Sheila went back to camp.

Meanwhile at the gate, Sara and Tara were both waiting for Blanca or Sheila to return. Sara was shivering cold, and Tara's teeth were clattering together. The two wanted to go home, but the only difference was Tara needed to go the bathroom.

"Okay Sara, I'm going to go use the bathroom. Than we go back to the cabin, okay?"

There was no answer.

"Sara?"

She looked back and Sara was gone. Sara was already running back to cabin.

"SARA! WAIT FOR ME!"

Tara started running toward Sara's direction. When she was running, Tara saw her reflection on the river. Before she could react, Sheila's bright red coat came from the sky with great force from the wind and it hit Tara right in mouth. She tripped and fell down a hill.

Blanca finally reached the front of the gate. She didn't see Tara or Sara. The first thought that crossed her mind was that Sheila came back and Tara and Sara went home together. Then she heard, "SARA! WAIT FOR ME!" Blanca saw Tara running and Sheila's coat came from the sky and hit Tara's face. She ran toward the side of the river where Tara fell. Blanca screamed her name, but there was no answer.

She looked closely in the bottom of the hill to find Tara's body. It was still and Tara's eyes were wide open as if she could still breathe a breath of air. Blanca's legs collapsed. She was so scared. She covered her eyes with her hands and started crying. That was the only thing she could do.

A few minutes later, camp staff was by the lake. Blanca and Sara were questioned by the counselors. The police were called and there was a search around the whole 350 acres of the camp for Sheila's body. Blanca's counselor wrapped a blanket around her and gave her a small cup of warm tea. When Blanca looked back at the metal gate from a distance, she could have swore she saw Sheila's tiny body waving her goodbye.

To this day the camp was famous for this incident, and every once in a blue moon, some campers say they see pale Sheila next to the gate, just waving goodbye.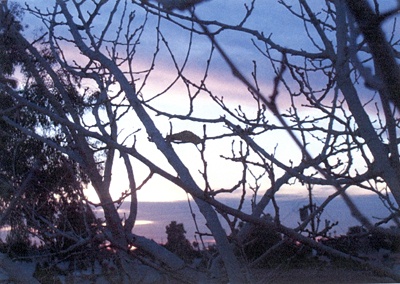 © Delia R., Phoenix, AZ