Sophia Sonnel [PART ONE]
April 3, 2010
There once was a girl. She had a nice life. And then I killed her.

It's not as bad as it seems. I'll tell you my story and hopefully you'll be on my side (unlike EVERYONE else). You will probably hate me because I'm cursed, you see, but there is no reason to hate. Hate hurts, hate kills, hate will take away your will. Remember that.


So one day I wake up. Everything feels like usual and like a normal summer morning, I get up and have my breakfast of blueberry crunch. My mom and dad are at work and my little sister is probably still in bed because it's only 9:00 in the morning.

Since I turned 17 just last week, I'm officially allowed to go where I please and don't have to watch my 14 year old sister. So I planned on meeting my friend, Anna for lunch and then was going to go to the movies with her and my boyfriend and her boyfriend. We were going to see 'Crushed'.


So of course I took a shower, made myself look irresistible, and even used some of my Otherworldly Perfume. 'Just a spray is all it takes to be Out of this World!' says the bottle. I had lunch with my best friend and we still had 3 hours to get to the movie.

So I went home and freshened up and she went to the mall with some of our other friends. I found my sister sitting on the couch.

She's one of those weird kids who always wear black and are so 'depressed' all the time. She wears black nail polish and if you ever caught her not wearing her wristbands and gloves, you'd see gothic writing all over her hand and deep cuts on her inner wrist. Is that normal? I think not.

So anyway, she was just sitting there looking as if she was high as the clouds and she smelled like drugs.

"Hey Rosa, what's up?" She just stared at me and let me tell you! Her eyes were sunken in as far as they could be! Such a pretty face wasted by drugs.

"Do you know that we are cursed?" she stared at me hard in the face and I laughed. Now I know she was right but then I was being pompous, "We are! And you'll know why when you walk outside with me. . . Like now."

"I will not smoke a joint with you, let me just tell you that, missy," I joked, ha-ha, funny right? She didn't think so.

"Go outside now! The demon hasn't shut up since I woke up and he's ruining my chill," she got up and practically yanked me off the couch.

I wondered why she was acting so odd but I had time to waste so I didn't mind. She opened the front door and we stepped out onto the deck.

"CURSE YOU SOPHIA AND ROSA SONNEL! LET YOUR BODIES ROT IN HELL!" screamed an unidentifiable voice below us.

"He's a bit meaner now. Before he was sweet and simply said, 'Come on sweet girls, open up your door and step outside, I'll give you lip gloss and weed, ha-ha-ha' so I laughed and I've been waiting for you!" she playfully smacked my arm.

"Huh? But I'm not high so why can I hear him?"

"You don't have to be high to hear strange voices, dumb-a**!" She laughed.



And then the ground fell out from under us.

"HOLY SH*T WE ARE FLYING DOWNWARDS!" screamed my sister and that's the last thing I remember of my life on earth.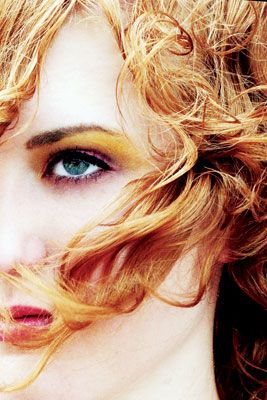 © Rebecca B., Marietta, GA