Congealed
March 3, 2010
Can you feel him standing behind you? Waiting for you to turn around. His cold hand grips your shoulder firmly. Do you feel it? The air around is cold, like a graveyard at midnight and the fear stirs in your blood. You're eager to run but he's read every thought that has crossed your mind. He can't give you a chance to fight.

His white eyeballs are fixed on you, on the back of your brain and he's teeming with rage, he won't let another meal get away. Do you feel it? Do you feel your courage abate?

Can you smell that fetid scent that radiates through his skin. Caused by the rotting bugs that are scurrying from within his body. The odor starts to fill your lungs, even though you can't breathe because you're congealed. It's infesting your body, eating your soul.

Do you hear that? The chain he's swinging slowly with his other hand. Do you hear that? As his eyes are fixed on you and his stomach growls with hunger, do you hear that? The bugs, from the apertures in his nails scuttle from his hand onto your shoulder as he waits patiently for time to unfreeze. Do you hear them scuttle?

Do you taste death in the air, as the clock gets ready to strike another second. For once you savor the sour taste of the end as he broods above you and brandishes the chain more violently now. There's a rush in your brain and there's grimness in the air. Any effort now would be futile.

And when you turn around you will see the beast in loose chains. The whites of his eyes, the foam in his mouth. The fissures in his head, where the rotting odor comes from and you will try to run but he knows every move you'll make. He's hungry, he won't let another meal get away.

You give up, wait for the clock to strike another second. Wait for the feral death to get you. He read your thought and your submission is ludicrous to him. The omen penetrates in your brain as you get ready for your fate.

You felt him standing behind you. You heard him, heard the clock strike another second. You turned around to face your fate. Did you see it? Did you open your eyes and see the morning sun shine through the window panes?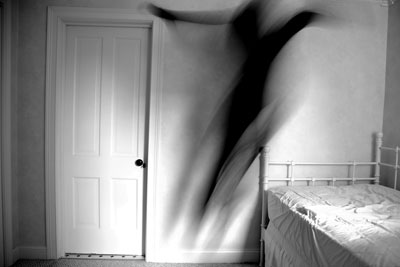 © Sarah M., Blairsville, PA