Karma
March 2, 2010
I woke up and immediately knew something was wrong. Normally my grandma would be passed out on the couch with a bottle of liquor in her hand, but she was in the kitchen making pancakes and whistling a sad tune. I could tell she was nervous about something because when I said "Good morning grandma," she turned around and basically threw the spatula at me.
"Sorry. You just scared me. I didn't realize you were up." I noticed that she stuttered as she spoke. "Is your brother up?"
"No, he is still sleeping in his crib. He will start to cry when he awakes." I replied with a tone of curiosity. "What are you doing?"
"I'm making pancakes for you and Nate." She answered like it was obvious.
"Grandma, Nate can't eat pancakes. He is only nine weeks old." I merged into the kitchen looking around. She had the stove on and there was a pile of golden pancakes sitting on a platter. The aroma of the kitchen was like a dream, hot maple syrup and orange juice. It never occurred to me that my grandma might be able to cook.
"Right I forgot. Well, that's more for you and me."
"And mom." I said as a reminder. There was long pause. I realized that she was trying to figure out what to say. Her lips were moving in little motion, but there was no sound. Her eyes opened wide like a light bulb suddenly went off in her head.
"Well, actually your mom left this morning. She put some money on the table, so we can do something today." I could tell she was lying, and I wasn't quite sure if I believed this. Every time she lied her eyes would linger to the ground and her blinking was so fast you would think she had an eyelash in her eye. Besides I knew money was tight this year and my mom almost never just left money lying around in the house, especially for my grandma. She's been drinking since my Poppy died when he was thirty-seven. She had outlived him by eleven years, considering she is forty-eight now. My mom always says: Money that is spent on liquor is money that is spent on a feeding habit that destroys families. I didn't know what to say. I knew my mom hadn't left that money, so where did she get it?
"I didn't hear her come in last night. Did she leave a note?" My grandma handed me a tiny slip of torn paper. A shiver went down my spine when our hands met. They were extremely cold and seemed chapped. The note read:
I had an emergency. Sorry, I couldn't be there on your birthday Kali, but I left some money on the table for some activities. I know it isn't much but it was all the cash I had. I probably won't be back for a while but I hope you have a wonderful birthday.

P.S. I put diapers by Nate's bed and some new wipes.
I looked on the table where my grandma earlier told me she had found some money. My mom was right it wasn't a lot $27. 19 were all she left. I paused for a second and realized that the note was in cursive and my mom couldn't write in cursive.
"Grandma, mom can't write in cursive." I paused when a sudden thought came to my head. "Did you write this note?" I asked, but as soon as I did I deeply regretted it.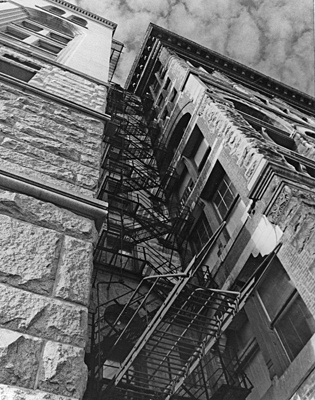 © Eric H., Lafayette, IN