Remembering David
February 10, 2010
Clamped tightly around his wrists, the icy chill of the metal handcuffs burned his skin. The pavement his face was pressed into wasn't any more forgiving. Policemen held him down, sirens wailed, yet he seemed to observe all of these events from an outside perspective. Those chocolate eyes. That golden skin. His Rebecca. That was all David could focus on, would ever focus on. She was alive. Even as the officers led him away, David knew she was his, even if she could not remember. He would, forever.

He first spotted her on one of his afternoon people-watching ventures in Times Square. In Times Square, David never knew what he would see. Anything from people on stilts, to mimes, to people dressed head-to-toe in lemon yellow, David had seen it all. Easiest to spot, and most amusing to watch, were the flocks of tourists dressed in matching hoodies and drawstring backpacks, clutching maps of the Metro and of the city tightly in their hands. David laughed at them, but suddenly was assaulted by an image of his younger self coming to New York City for the first time just a few years ago. He wasn't much different from these tourists, yet he wasn't in New York for tourism, he was there to escape his hometown, and to forget her tragic death. But that was then. Everything had changed.
Amidst a sea of black, white, and gray, she shone out like a golden beacon. Her wild curls undulated as she strolled down the sidewalk. She traveled in a guided tour group, wearing an "I Love NY" T-shirt, faded jeans, and a pair of cowboy boots, well-worn and tattered.
She seemed so familiar. David's memory flashed to a mop of golden, frizzy hair attached to a girl trapped beneath the wreckage of a barn. Cries, screams, and shouts of confusion echoed around the debris. The lingering smells of the storm still hovered in the air. A single cowboy boot protruded from the wreckage, barely visible, while the other lay obscured beneath rubble. The body was crushed beyond identification, but with a sickening knot in the pit of his stomach, David knew whose body it was. A frantic woman approached him in his trance.
"Where's my Rebecca?" she demanded. David pointed a shaky finger to the ruins. That's when the screams began.
The girl continued to soak in the city like a sponge. Neck craning, her wide eyes gazed up in wonderment at the large buildings in Times Square. She moved leisurely, flowing down the street like a gentle creek on a warm summer's day, a direct contrast to the hurried pace of the average New Yorker and so much like how Rebecca used to walk. David saw her inadvertently separate from the group. Silently, almost subconsciously, David trailed after the girl. He just had to see if she was really Rebecca, no matter how much pain this caused him.
The girl took a wrong turn into a dim alleyway. She spun around to exit when she collided, face-first, into David's broad chest. Her eyes sparkled in recognition, which she quickly suppressed.
"Rebecca?" he questioned tentatively, reaching for her hands.
"Sorry, I don't believe I know ya," she drawled calmly, fear underlying in her voice as she took in his battered clothing, unkempt auburn hair, and his yearning eyes. She tried to remove his hand from hers. David could never forget that voice, the voice of an angel, the voice of his love; she had to be Rebecca.
"Don't ya remember?" he questioned.
"I don't know you, or this Rebecca person. Please let me go," she pleaded, voice still calm, yet the pulse in her wrist more erratic.
"I love you. Don't ya remember? I thought you died, but now you've come back to me," David pleaded, accidentally slipping into his accent. He leaned in to kiss her; she hurriedly pulled away.
"Rebecca, please!" David shouted into her face in exasperation as he shook her by her shoulders. Her eyes wildly searched around the alleyway, like a caged animal searching for an escape. At this point, David's frustration exploded as he shook and squeezed her harder. The girl's head smashed against the rough brick wall in the alley, her body hanging limp as a rag doll in David's hands.
By that time, a police officer on the street heard David's shouting. In the next moment, three officers had David pinned down as the girl was revived by another. The moment after that, David rode back to the mental hospital to be forced back on the medications that would supposedly make him "better"; meds that would make him stop seeing what was not really there. As the girl was whisked away in the opposite direction, she looked blearily out of the ambulance to where David had disappeared.
"David, I'm sorry, I do remember," Rebecca whispered almost inaudibly before the bitter-sweet fold of unconsciousness embraced her again.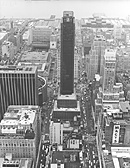 © Palema T., Norwalk, CT