George Hush
January 29, 2010
The names Hush, George Hush. I live in Raiol Idohoe, good people, good food, good business, well enough to make Donald Trump chuckel at the least. Speaking of business Im a dective, and no I dont wear a fedora, or a trench caot, and I dont drink, and I certaintly dont smoke. Just because I dont fit into all the of these stereotypes doesnt limit my dective work, and neither does me being blind. Yes,Im blind no I dont use one of those canes or use a dog. Se will I cant see I can hear, feel , and smell my way around town of course I still cant drive, but other than that I do pretty well. Anyways I have been getting a couple of cases lately one involving a drug cartel somewhere in town, to be honesst Im stumped. So I put this one on the backburner and took up a murder case, nothing serious just a poet got killed in huis home, he wasnt famous but he was still a victim. I called my partener/friend Judy to drive me to the scene. She arrived a while
later.

Once we got to the scene Judy a tall Lightskinned secretary stepped out and walked over to the crime scene, I followed her. The victimns house was as far as I could gather, or sniff in my case was a two room apartment, his body was in between the two. His throat was slashed open, the blood was cleaned up but the body was left behind and nothing was stolen. I walked around the crime scene, Knocked on the walls looked for clues found some, and walked over to Judy and asked "I need you to go over to the body and uncurel his right hand". Now Judy has a thing about touching dead bodys(who doesnt?) so her reaction was not a positive on at first but after convincing her she finally agreed just as sh wore a glove. "This is so gross but at least I get a raise for it" after she uncurled it thier was a crumpled piece of paper and a key. We took it and got out of there.

When we got back I asked Judy to read the paper
"Huh, its a poem, shocker"
"Just read it" I said
" Many a night I spend alone
Alone with the wind as company
In my room I weep
None to love

Stress it makes one
Tense not
Rested not
Eccentric not
Eloquent but
Tense"
"Thats probally the worst poetry Ive ever heard" she said
"Yeah, hmm... try reading the first letters on each line" I said.
"K, Main Street" she said
" Thats our clue, now while I banged on the walls I notced that there was a sealed hole in the wall"
"Meaning?"
"Meaning that, our poet friend was spying on the drug dealer, and he was coding his information in his poems" I said
"Who pretty elabroate plan yep and I think the final clue is in that hole in the wall"
" Realy?"
" Yep, and I want you to go in thier tonight and get that box"
" Hmm... Will I get paid tommorrow?"
"Yes, do you omly care about money!?"
"No I also care about my car"
"Whatever, just get in house and get the clue okay?" I said crestfallen

She arrived two hours later with the box and a triumpant look.
"It need s a key" she said
"No problem rember the key that was in his hand?"
"Ya"
"Use it" she did, and like a charm it opened. "Now what do we have here?" I said. Inside were two pieces of paper and jalf a million dollars. "Read th poem I said"
"Alright
For getting
Rachel is
As forgetting
Nothing my love for her meusered a
Kilogram of
Sand
"Again more bad poetry" Judy said
"And, again another clue,our final actually" I replied. "Take you would like me to call the police?"
"Oh, yes"

We met tghe police at Franks a local pizza shop, inside thh police found fift grams of weed. As you probally suspect they were all arrested and Im nationally known, guess I better strat shoppin for a fedora.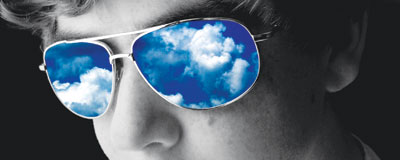 © Joseph B., Mesquite, TX