Dead In The Water
December 28, 2009
The window, curtained by dripping red drapes, was all I saw in those dreams. The wind flipped through the freezing air, rippling the hangings like bloodied smoke, twisting here and there. They never stopped.

No light came through, only warped grey mist, seeping into the room. Fogging the house. I was so cold my own lungs seemed to harden with ice.


"Tiff, what's the matter?"

Robert's steel eyes explored my green ones. Morning sun hit his pale face and it glimmered white silver.

"Nothing."

"Do you miss home?" He knew I didn't. It was something more.

"Not really."

Robert's dark hair, hanging across his face as he stooped over me, caught the sun now and then, deep red dancing across it. His mildly perturbed expression caused no trouble to his precociously handsome face.

"Did Mum say something? She can be so irritating."

"No, no. Sorry Robert." I scratched me shoulder. "I'm being boring…."

"Boring?" Robert laughed darkly and sat down on the edge of the bed. "You're the most interesting person who's set foot in this house since….. well, in ages. Did you hear Dad last night? I wanted to top myself. You're riveting."

I managed a small, tired smile. A blind moth flapped about the curtain rail for a moment, before falling like a stone to the floor.

"You didn't sleep well last night, did you?" Robert said suddenly.

"Oh, God….. I look awful, don't I?" I always had large purpley rings around my eyes through my teenage years.

"No….. It's just I heard you. In the night."

My stomach churned.

"Christ. I will have woken the whole house up, then," I murmured. I pushed my hair over my eyes. Bad dreams. I wasn't going to mention them. "Sorry. I've had a bit of trouble sleeping lately."

"Nah, it's this house. Always creaking in the bloody wind. It's like a ghost ship at night. I never got used to it."

"It's a lovely house."

Lovely. Not the word I really meant. It was like no other house I'd seen in my life. Four floors, joined by spindly, steep stairs and low ceilings. Little ledges hiding everywhere, tiny doors and windows peeking out from gaps in the wall, fireplaces surrounded by wooden carvings, missing floorboards. Spiders the size of my hand.

Each room seemed to be draped in darkness, save for certain hours before noon, when fragments of light fell through the shadows. Everywhere you stumbled into seemed new, strange, cold. Through the bedroom window, the garden seemed like a setting from an old movie with black branches twisting up, reaching up with crooked fingers to the clouds. Thorned bushes were full of white eyes at night. The room they'd put up for me was small but well-fitted, had 2 chests of drawers, a small wardrobe and an antique dressing table, its mirror scabbed with black. A long, narrow bed sat in the corner, covered by frilly crème sheets, usually left unmade. The room was at the top of the house, yet plants, arms gross with brown leaves, still reached up to my window in desperation.

For the first few weeks, I found little matchboxes everywhere in that house, all empty. And a sugar mouse on a bookshelf in the library. It all felt so full of meaning, like little dead secrets swept under the carpet and forgotten.

I was sent off in a taxi to this house, in the middle of the countryside, by my parents who were marching around the country trying to sort out people's lives. I'd never stayed with any relative before, seeing as my grandparents were dead and we didn't talk to my father's family. It was a most odd, wonderful, lonely thing meeting the three of them for the first time since I was waddling around in a nappy.

The house was quite literally situated in the middle of a vast nowhere. My Aunt Lucia, who strongly reminded me of an old school teacher who'd torn up my drawing of a toad, and her grey-haired husband William Grey, welcomed me into their home with awkward handshakes and thin smiles. I was shown to my room, told vital Information. Initially Robert kept out of the way of me, so I only caught glimpses of him eating slabs of bread in doorways in the daytime. But after a week or so, we'd exchanged our first words and he was like a guardian to me, a guardian in a striped pullover. He was 19, "On a gap year… or something..," painfully intelligent, and apparently he and I shared the same narrow nose by some distant genetic crossover.

Dinner was at 8 o'clock sharp each night, and nobody would talk, unless Robert asked me how I was feeling, what I'd been doing today. Then we'd all retire to the living room and listen to my Uncle ramble on to nobody in particular over a few brandies. We had to get our own breakfasts in the morning, but the aga was "always hot", unlike the company. Books had never been so necessary.

"I'm always around if you need me, in the night, or… you know." Robert smiled and everything seemed painless again. Even if it really, really wasn't.

This house didn't want me.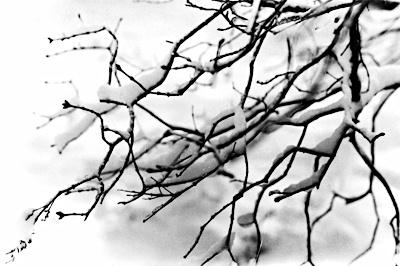 © Lindsey D., Marblehead, MA