Secrets
January 8, 2010
I couldn't breathe. The air caught in my throat and collected inside of me.
I was about to explode.
My eyes squinted and all seemed to leap forward but me. Then I realized I was but the only thing that really did jump forward.
I was in a cold sweat. I couldn't move. My airways still were strangling themselves and the smell of fear suddenly stung at my nose.
I knew where I was. I knew who I was. I knew what happened.
But, my friend, I didn't want to. My mind, deprived of a regular education wanted the only things it knew to flee out my ears.
I was in an abandoned warehouse. More specifically, I was in a box. What happened? All who treasured me had disappeared. Where? No where. One day it seemed something just swallowed them up. i think it was death. Who am I? People have names. All are different. Some are written or printed onto a paper people call 'birth certificates'. Others feel they get names from a higher power than themselves while others receive names from people of their own age. These are more commonly known as nicknames. Those people named me, but this is no nickname.
I am an outsider. Trash. Worthless. Hideous. All are words that lead to me. These words squeeze at my heart and pulse terror through my veins. Because I knew if I heard someone say those words, they would find me. The people would hunt me down.
It seemed as if a disease lurked inside me. But this is not a disease that causes one to be sore or bedridden. This disease can kill though. It kills many.
And I know it will kill me. The disease I have can only be found when one looks deep into my eyes. It's known by one name: Secrets.
The secrets of thousands lie right past my eyes. The secrets of those who surround us. The kinds that kill.
I lay back down, letting these secrets wash over me. If anyone else knew, they would surely die.
I am burdened with these, only hoping for one day that I'll wake up without a clue of their existence.
Closing my eyes I began to float through darkness, the kind that occupies your head when you drift through a sleep that knows no dreams. This was my only escape, my only sanctuary.
I saw myself getting farther and farther away. I wouldn't try to fight out, and my screams wound never be heard. Then soon, i knew it as a fact:



I was gone.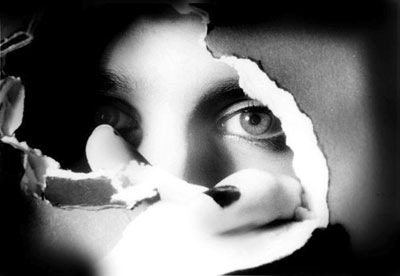 © Tabatha B., Peoria, IL