Vault number 317
November 5, 2009
Vault No. 317
It was a typical dark Monday night in the city of Montreal, more precisely around the old abandoned bank downtown. The old John-Simon Tripp stepped out of the transit bus and slowly limped towards the Trust bank, about 100 years old with cracked walls and broken windows. This building had been abandoned for some decades, but John-Simon made it his refuge, his secret hideout.
The whole neighborhood spoke of John-Simon Tripp, calling him crazy, antisocial, eccentric. The little children threw rocks at him and adults avoided him like the plague. Severely autistic since childhood, the old man never was accepted despite his heart of gold. Therefore, tainting with tears the stone floor of the old Trust became his only comfort.
"YOU F***ING MANIAC!" shouted a woman to John-Simon, hiding her little boy like if to protect him. John-Simon turned around; hurt, but his deformed eyes gave a perverting look instead. The woman ran away, screaming. So the old man limped to the bank, opened the creaky door and burst out into bitter tears. Hesitantly, he took a rusty gun out of his pocked and pointed it to his head. "No more reason to live…I…don't want to live…" cried John-Simon. He put his finger on the trigger…
Wham! A door has shut. Perhaps was it a door to one of the vaults? John-Simon dropped the gun, shocked, and followed the noise. He walked through the rows of vaults, and ended up at vault number 316. A folded note was stuck in the door. "A letter…for old me?" John-Simon smiled of his black teeth.
The mentally ill man opened the mysterious letter, and read out loud: "You are not alone, Mister. Together, we will live a great adventure". John-Simon frowned, surprised. No one ever showed him this much attention. He decided to search the rows of vaults for the intriguing author.
Oh, deception! John-Simon found no one in the bank. Suddenly, a pretty girl who freakishly looked like Megan Fox, tall with long black hair, winked at him. "Heavens, what beauty! She's an angel!" muttered John-Simon. But how could a girl fall for the bizarre John-Simon? How strange…
The gorgeous siren gave a sign to John-Simon to come see her outside. Dazzled, the old man exited the bank to kiss her soft hand. He stuttered a few words, but the mysterious girl shushed him with her index finger. "My love, have you received my letters? My name is Anastacia, and I believe I am your soul mate", she said. John-Simon was going to reply when Anastacia started to kiss him passionately. The old man thought: "So that's what happiness is…" Anastacia softly let go, and whispered in his ear: "Hush, darling, meet me every night in this bank." And the lovers fell asleep on the cold floor of the bank.
The next morning, Anastacia disappeared magically. John-Simon thought he had dreamt. He strolled from street to street, ignoring the passers-by who ran away from him and the little children who mocked him. "Good Lord, I know what love is!" John-Simon thought. He was way too happy to be true.
Every night, that week, Anastacia kept her promise to visit John-Simon at the old Trust bank. She kissed him for hours and whispered sweet nothings in his ear. But the old man doubted more and more Anastacia's feelings for him. It was quite an irony, to be the village outcast and sleep with a goddess. The last night, the beautiful girl confirmed his doubts…
John-Simon awaited Anastacia that night. But she was late, very late! Finally she showed up, dressed up sexier than ever with a leather mini and stilettos. "Lie down, honey!" she commanded. John-Simon happily obeyed. "Now, take off that shirt!" Anastacia dictated. And instead of covering him with kisses, she took a knife from her belt buckle and started to savagely rip up John-Simon's chest. She then stabbed him in the throat, maniacally laughing!
And that's how the old John-Simon died.
But the story doesn't stop here! The pretty little Anastacia, bloody-handed, dragged the body to vault number 317. A twisted smile appeared on her lips and she whispered: "Open, oh little door…" Anastacia unlocked the padlock and opened the door…Horror! About six dead men's bodies were piled up there, all ripped apart by Anastacia. "Good night, my love!" she shouted, throwing her seventh victim in the vault.
The next day, Anastacia wrote in red ink, on a piece of folded paper: « Meet me tonight, Mister. Together, we will do great things" She then ran to deliver the message to her next victim.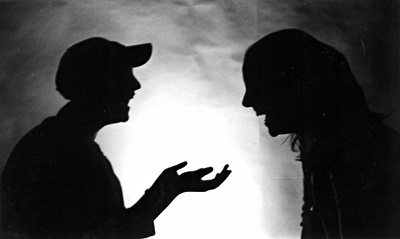 © Jeff A., Marblehead, MA