My Forgotten Murdered Love (Part 3)
December 21, 2009
I ran upstairs trying to find my mother. There were bloody foot prints that only matched the Converse shoes that I was wearing today. I followed the origin of the bloody path to my mother's room. I feared the worst, and opened my mom's bed room door to find her strangled corpse that I must have killed this morning. Her mouth was covered with black, dried blood, and the chain I must have used to kill her was still tight around her neck. I did not remember killing her today, but I must have been responsible since I killed everyone else I ever loved today.


My vision blurred with tears but my ears functioned normally, as I picked up on the far away sirens of police cars. I ran in my room to hide, as if that would save me. In my room I noticed that my TV had changed. It had the words 'MISSION COMPLETE' in bold, red letters. "What the hell is this? This isn't Half-Life!" I yelled at the TV in outraged bewilderment. 'YES IT IS,' the TV screen said in a creepy, robotic voice. "Who is this? Who is doing this? What kind of sick joke is this?" I said more confused than ever. 'YOU NEVER PLAYED ME, SO I HAD TO BRING HALF-LIFE TO YOU,' the TV said, but it didn't answer my question. "You mean to tell me," I started yelling, "that my Xbox is the reason I have been killing my friends and family?" 'WELL NO, NOT EXACTLY. YOU KILLED THEM, I MERELY PUT THE THOUGHTS INTO YOUR BRAIN,' the TV read. "I'm going to destroy you for what
you have done to my life!" 'THANK YOU FOR PLAYING HALF-LIFE,' my TV said, written in crimson letters.


I ran down to the garage and picked up an ax. When I turned around to look out the garage door at my snowy front yard, I saw an army of men pointing guns at my head. I must have been so distracted by the Xbox talking to me that I forgot I was on the run. About thirty police officers were using their cars for cover and aiming their pistols. Two SWAT team trucks pulled up to my house and let out ten well-trained men each. The men wore armor and carried shields that they used to protect the state police. Three helicopters flew overhead in the blizzard and carried even more men who also had guns directed at my head. "Come out with your hands up, Kailey! Drop the ax!" a voice from one of the helicopters said over an intercom. I panicked at the sight of the army and ran as fast as I could into my home as the men opened fire. The men shot up an old work bench and broke the back window in their attempts to kill me. Amazingly, I dashed into the safety of the house without being hit. As I ran up the stairs with the ax, I could hear the helicopters "Zoom" over my house. I was completely surrounded with nowhere to run. The only thing on my mind was destroying that damn, possessed Xbox. The TV had 'THANK YOU FOR PLAYING HALF-LIFE. GOOD BYE FOR NOW' written on it. I took the ax, raised it high, and, with one large slam to that piece of crap Xbox, it was destroyed. The game was over.


When I awoke, I heard crying, but it was not me. It was Kyle, my forgotten murdered love. I appeared to be in a hospital bed. A heart monitor followed my pulse, and the table to my left held flowers and get-well cards. Beyond the table was a small window that the snow drifting down fell against. The sun beams that peeked through the cloudy sky came in through the window and lit the room. Kyle was crying with his head down on the right side of my bed. "Had my whole murderous day been just a sick, twisted dream?" I questioned myself. I started to speak to cease my love's sobbing. "I love you, Kyle." Just then, he looked up at me with red, irritated eyes in his tired and worn face. "Kailey," he said sheepishly, surprised. He hugged me with his warm body. He looked so happy, and began to tear again, saying, "I thought I lost you." "No," I said, "but what happened yesterday? What happened after the bus brought me home, and you said you loved me? Are my mom and Chris okay?" "Yes, of course they're alright. I'm sure they'll be even better when they learn the good news that you're okay. Your mom's at work and Chris is in school. They both really wanted to be here with you, though. As for yesterday, you had some kind of seizure from staring at your broken TV, which isn't working because you left your Xbox on again. You really shouldn't have played it more, what a waste." Kyle joked making my feel better. "Wow, that's a relief. I had a dream that I killed all my loved ones and lost my memory of the day you said you loved me, all because I was hypnotized by my Xbox," I told Kyle. "You sure you're feeling okay?" Kyle smiled and laughed a little to lighten the mood further. "Ha. Ha. Very funny, but I don't think I ever want to play video games again. I'm happy now that I know you're here." "Aw, I love you, Kailey," Kyle said with all the love in his heart. I held his warm hands and told him, "I love you too," for always and forever.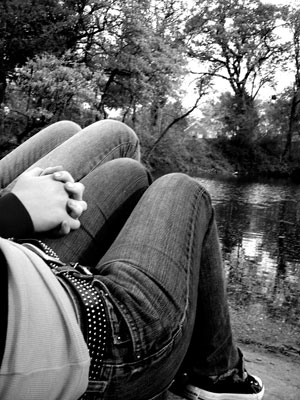 © Lauren R., Edmond, OK