Trapped With Them
December 8, 2009
I wake to the sound of one slow, gathering noise. Collecting in my ear, it started to rattle in my head. The slow, low "BOOM" stopped and only a slight ring that lingered within my ear. One leg bent at the knee, sprawled behind me. The other lay straight. Arms cuddled themselves and hid against my front. That was my position. I let my eyes roll to the side, catching only a few brief moments of light. Bars lined the only source of light. I was caged in. Like an animal, I was up for show. Yet no one would dare to think of spending a cent on me. I was undesirable. My last memory could fit into one word. Chaos. The flying of limbs, the growls of men who grabbed at my flailing body. I fought. I screamed. They only stared. Most people would call them 'patients'. The men were titled as 'nurses'. The words had no meaning to me, and they never will.
Captured from home, I know this is a lie. Why? I squeezed my eyes shut, Why won't I wake up? I somehow had numbly found my way to the one bed, pushed up against a wall. Clutching my knees, I tried to find an escape. Grabbing whatever wight lay beside me, I threw it at the barred light, but the caging held strong. Running, my hands found the poles. A scream left my mouth, but a strong hand closed it shut. No noise was to be heard. I sit on the floor, hopeless. I couldn't do anything but breathe slowly and wish it all away.
I needed to escape. Feeling around yet again, I found the bed post. With one blow, it broke. This was my weapon. This was my way out.
One swing. Nothing happened. Second swing. Only a loud noise. The hand came again. They knew I was out. I lept out of there in a heartbeat, my hair swing vulnerably behind me. It was captured in hands that pulled my face to meet his. Wrinkles. Hard face. Unkind.
"HELP!" They only watched. I kicked. They only grabbed. I hit, they only laughed. I was paralyzed. Dropping my head, I knew where I was being taken.
I was on a bed, being strapped down. The ball was left alone, not stuffed in my mouth this time. The connectors were placed on my head and the electricity surged within my veins.
My mind went blank and my body emptied as it all gathered with the scream that left me. I was never to escape this insane asylum.
I was trapped forever, with the insane.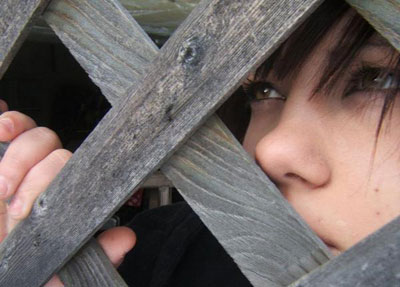 © Krystal B., Bloomingdale, IL