Dead Right
November 9, 2009
"I really don't think we're supposed to be here, Jake" i said nervously, rubbing my arms absent-minded.
Jake gave me a playful shove. "Relax, Vana," he said, taking off his shirt. "It's not like we're commiting a crime."
I looked at him dubiously. "So, according to you, breaking into the local swim club after hours isn't a crime, right?"
It was his turn to look at me like I was stupid. "We didn't break into the place, you silly girl."
"Really?" I said, eyesbrows raised. "Then what exactly did we do?"
"Jumped over the gate," he said and smiled. "So, we didn't do a break-in."
I shook my head and he chuckled. "Come on," he urged. "The water looks great."
Without waiting for my reaction, he dove headfirst into the large-sized pool. Water sloshed over the edges, spraying my jeans.
"Ugh!" i cried. "Look at what you did to my brand new pair of jeans!"
Jake popped his head out of the water. His glossy black hair was stuck to his head, which made me smile through my anger, because he looked so adorable.
"Just jump in," he told me, and splashed water all over me using his hands. That was it.
I jumped into the water, splashing it in Jake's face. He laughed and doved under the surface, pulling my legs so that I went down with him. We tussled in the water for a while before i had to come up for air.
My head broke through the surface, and I took a deep breath. It was then I realized that Jake hadn't surfaced with me.
I looked at the still water. "God, Jake," I said outloud. "You don't need to breathe yet?"
Something bumped my leg. "Jake?" I asked, looking at the still body that was underneath the water next to me.
I reached my arm down and grabbed his hand, pulling him to the surface.
And screamed when I saw the distorted, bloodied face grinning at me. I shoved the lifeless body away from me, fighting the urge to throw up.
It sailed smoothly across the pool until it bumped against the railing on the other side.
A hand grabbed my shoulder and i shrieked, swinging my fists at whoever it was.
"Vana, Vana, calm down," said Jake, his voice barely registering in my mind. "What's wrong? What happened?"
I looked at him, my upper teeth knocking against my lower teeth, and pointed to the corpse that was still grinning at us.
"Oh, my God," he said quietly.
It was his next words that surprised me.
"What did you do?"
I looked at him in dislbelief. "I didn't do anything!" I cried.
He shoved me away from him as hard as he could. I gasped as i felt his strenght.
"What did you do?" he said again with horror.
"Nothing!" I shouted. "I was with you the whole time!"
He laughed, suddenly, and something flickered in his eyes. "I know, sweetheart," he said softly.
A voice in my head told me to run for it as I watched with growing horror Jake swim toward me ever so slowly...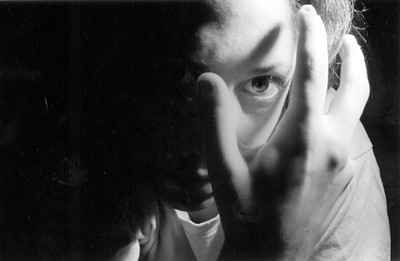 © Julie S., Marblehead, MA