Window Watcher
October 27, 2009
Sam looked over at the window with a sad expression. In an old wooden chair, a three-year-old child sat and watched as rain bombed the window, seeking entrance to a strange world. He was watching for someone to come out of the rain, but that person never came back. He glanced over his shoulder at her and smiled before returning to the window with a frown. The daylight was fading fast, and no one was out there. Sam sighed, hoping it wouldn't end this way again tomorrow. He sat in that chair every day, staring out into the world through a simple piece of glass, and only Sam knew about his depression growing each day they didn't come back.

"Aydan, come away from the window. No one is coming today," Sam finally said, and Aydan acted as if he couldn't hear her. Now that she thought about it, Sam wasn't sure what her nephew could do anymore. All he did was sit there and watch for someone to come. It was on rainy days that he searched heard because he heard the story that the person loved the rain the most.

"Sam, they come. They come back to me," Aydan said after a while. He looked over at her with his sad clear blue eyes. Sam was always reminded of clear blue water that allowed you to see everything under the surface. It was the same with Aydan's eyes. Nothing was hidden. Sam felt terrible. She loved Aydan as much as an aunt could, but she could replace the ones he lost. "Ma and Da will come. They come back soon. Sam, they come back soon?" Aydan looked at her with those eyes that spoke of a pleading boy that was waiting and watching for his family.

"Sure, Aydan. Your parents will come soon. They promised that they would, so they will," Sam said. She walked over to him and ruffled the black hair that was never tamed. When people asked what was so special about her nephew, Sam always talked about his smile being unmatched. Aydan's smile was kind of crooked and not. There was the smallest glint of teeth, but the most special thing about it was that it brought hope alive. "Let's go play with the block until they come back." Sam was famous for trying to get Aydan away from the window, but as soon as she suggested something, he would become deaf to the world around him and stare harder out the window.

Sam remembered the days she never knew Aydan because his mother never talked to her sister. It was one year before that Sam met her nephew. During a rainy night, Sam's little sister, Amanda, show up on her doorstep with Aydan and without Thomas, her husband. The younger one begged Sam to take care of Aydan without an explanation. When the older sister gave in and took the boy, Amanda took off into the rain. Aydan's first reaction was to run over to the window and stare out it without moving a muscle. It took Sam two months to find out why Aydan was in her care. Thomas and Amanda were never supposed to have Aydan.

Amanda and Thomas worked for an organization that frowned upon relationships between workers. They fixed the problem of marriage by giving them more work to separating them. Thomas was forced into being the leader of the firing squad while Amanda was pushed into working with the trackers. They rarely saw each other enough to talk, so the organization backed off. Then Aydan was born and kept hidden for two years before a higher-up found out. It was a crime apparently because bounties were placed on Thomas and Amanda. Aydan wasn't even worth a bounty.

With a sigh, Aydan grew tired of the window for no one was going to come back for him that night. Sam opened her arms as he walked over to her seat on the couch. He climbed into her lap and was hugged tightly. Over the months of caring for Aydan, Sam learned that this sweet little boy was about to cry when his eyes became as clear as glass. The tears fell as Sam began to gently rock him. He missed his mother and father so much that it was probably killing him inside. No child deserved this kind of life. Sam's thoughts were never voiced though because Aydan was hers to take care of now. She continued to rock, knowing that she lied to her nephew every day, and every day, he would sit and wait for two people that would probably never come home again.

"Sam, they not coming, yeah?" Aydan asked. He wiped away some of his runny nose with his sleeve before Sam got him a tissue. She knew that she couldn't lie to him any longer. This was the first time he had cried since the beginning, and that only meant he was becoming tired of waiting. Hope was dying. Sam finally shook her head and hugged him once more. "Thank you." It was just whisper and so sad because Sam realized that Aydan would continue staring out that window until he understood that no one would ever come back to him. It would always be just Sam and Aydan because they had no one else coming for them.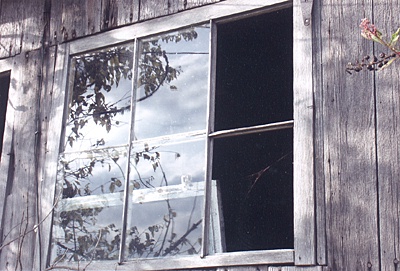 © Cassie H., Cami, IL