The Other Half. Part Five.
October 26, 2009
JET-
Scarlett had been asleep for nearly three hours, I'd chosen not to wake her, instead I had fiddled with the door, somehow it seemed very mysterious to me, not being to open a door that is. When Scarlett had waked, she scared me; I had no idea what she meant.
"Scarlett, what is it?" I asked,
"You have to come with me" She said and looked at her watch, "Come on!" She said excited and she grabbed my arm and pulled me along with her.
I heard footsteps and the suddenly I saw Mr. Jones, Scarlett must have saw him too, because she let go of my arm and stopped.
"Where are you two off to?" Mr. Jones asked us,
"Um, we were off to ask you what time tea was" I asked and I already knew that it was at six-thirty.
"Six-Thirty, make sure you don't get lost on your way back to your cabin, where you should be!" Mr. Jones said and I forgot we were supposed to stay there.
I turned around and me and Scarlett started walking back to our cabin in silence, but instead of entering the shabby shack Scarlett grabbed my arm again and ran behind the cabin, pulling me along behind her.
"What is up with you?" I ask her, and Scarlett place's her index finger over her lips.
She walked started walking quietly and she beckoned me over to her. I quietly walked over to her and as soon as I reached her she started running again. I turned around to see whether Mr. Jones had seen us running but he was nowhere to be seen. As we reached the BBQ area I realised that we must have been going on the orienteering course, but why?
"Where are we going, I'm hungry cant we go back" I asked, the sky was now black and I could hardly see.
"You'll see, I just have to know something" She said and ran off to the first fork of the orienteering course, when we reached it we went left.
"Why is this so important?" I asked her frustrated.
"Because it is okay! It's important to me and I think, no, I know it's important to Sapphire" Scarlett said and I blinked at Sapphire's name.
I knew she wasn't joking when she had said it was important to Sapphire, but I still didn't get it but I didn't say anything I just kept running behind her. When we got to the second fork in the track she went left again, I didn't understand, this was the wrong way; this track went to the tree that blocked the path.
We got to the tree and Scarlett army crawled under it but I grabbed onto a branch that hanged off the tree of used it to push myself up onto the top of the tree, I got into a sitting position and slid down the tree.
"Ouch!" I said as my back scraped against it, I didn't realise how big the tree was.
When I reached the bottom of the tree Scarlett was already gone. I started running again, faster this time. I turned a corner and saw Scarlett standing on the edge of a cliff.
I sprinted over to her, grabbed her by the shoulders and then pulled her back from the edge of the cliff.
"What are you doing?" I asked her in shock.
"I need to get down there." Scarlett said and she pointed to a ledge on the cliff face.
"You're kidding me!" I said and turned around to start walking back to our cabin.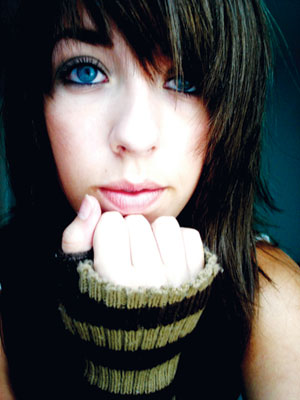 © Brit H., Peabody, MA