Shadow Stalker
October 20, 2009
It was a foggy afternoon, and I was driving home from my families' cabin in the mountains. I had left early from the weekend long stay to head back to town. I had finals Monday and I was going to franticly attempt to study at the last minute, due to me forgetting my schools work at my apartment in the city. I had been driving for at least and hour now and was only a fourth of the way there, when I hit traffic. They had shut down the main road in and out because a semi had rolled. The constuction crew told everyone the road would be closed at least till early the next day. I swore about eight or nine times, then calmed down and thought of my other options. I had seen a dirt road about three miles back. Maybe it could lead around all this I thought.
As I drive along this bumpy and rutted dirt road the trees seemed to be getting denser. I looked at the clock. 6:42. I swore again and slammed on the gas. I rapidly approached a turn, not knowing it. It looked to be a downhill until I noticed it was a sharp turn with a drop off into a lake! By the time I realized this it was all too late. I soared off the ledge and plummeted into the lake! I tried to open the door only, to find it stuck due to the crippling of the front of the car because I impact of it hitting the water. I break the window and try to get out, but that just made the car sink even faster! I struggled to get out but the buckle for the seat belt was jammed and I could not find the release button because it was hidden behind the deployed air bag. I jerked and pulled at the jammed buckle and finally broke it free. I swam to the surface of the water, gasping for air, and pulled myself onto the shore with my last ounce of strength. The muddy shore was as cold and black as a bottomless pit. I caught a glimpse of the blazing sun just before it is about to slip away behind the mountains. I am lost…and in total darkness.
I notice a faint glow from a small house in the distance. I push myself up to a tree where I am able to rest. I hear a blood-curdling scream come from over by the house. I freeze. I remember my phone and pull it out only to see it say no signal across it. Then, get a shiver as I have a feeling that someone is watching me. I turn to see a silhouette of a person in the window of the small house. I look away as I hide the phone in my pocket and see that the figure in the window has vanished. I hear a noise in the distance and it is suddenly getting closer. I start to run in the opposite direction out of sheer terror. I run into the thick forest away from the house in the distance. I tripped on a stump from a small tree and smacked my head on the hard unforgiving ground. I glance up-dazed only to feel the trees surrounding me staring me down. I groan loudly in pain until I hear a branch snap in front of me. "Where are you?" I ask. There was no answer. "What do you want from me?" I asked even more panicked.
"You…dead." I froze, and was too terrified to move. The reply had come from directly behind me. I slowly turn my head to see a shadowed eerie man standing over me.
"W-w-what did you say?" I squeaked out in a whisper. He ignored me this time, and just stared at me. I pushed my feet into the black soil as I frantically tried get away from him. He reaches for me, I kicked and punched and squirm with all remaining energy I had. But it was no use. He had me by the throat now. As slowly started to lose my vision and saw a glimpse of his face. My vision was too blurred to make anything of it. Then everything went cold, black, and silent.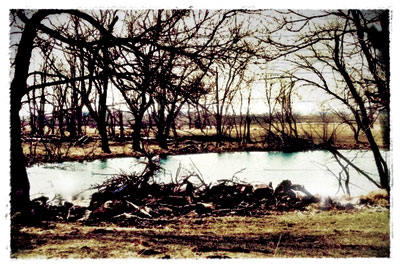 © Chelsea G., Farmington, MN