Gaurdain Angel
October 19, 2009
I slept in the warm summer air that filled my house. My parents were sound asleep as I woke up in the middle of the night. I scrambled my frizzy curly hair with my nails and blinked my eyes trying to be able to see.
My eyes caught a glimpse of something in my mirror that hung precariously above my small oak dresser. There was something black in the corner of the mirror. It looked like a ruffled hood on top of some disheveled man. My eyes quickly went to the foot of my bed.
There stood a man with a scruffy honey colored hair wearing a black jacket and hood. His hands were held in his pockets as he smiled at me with his colored teeth.
I blinked again to make sure it wasn't a dream. I realized that is a real man, not a dream or imaginary person. My scream filled the house and got to my feet that were still numb from the way I slept.
My hair tangled around me as I ran into my parents' room. My heavy breaths broke up what I was trying to say.
"There is….someone in my room!"
"What?" said my father in shock.
"There is someone in my room!"
My parents sprang form their bed in their summer pajamas and ran into my room with anger in their eyes and on their minds. They stopped at my door and took a deep breath of relief. I ran in behind them and look over my father's thick shoulders.
I looked at my bed where once a man stood starring at me as I woke up only seconds ago. There was no one there, not a sign or trace of anyone in my room except my hurried footsteps out of it.
"No one's been in your room, it was just a dream," said my father with the drowsiness creeping back into his psyche and speech.
"I swear there was someone there!"
Tears were slithering into my eyes as I realized that they didn't believe me.
"It's okay honey. It was just your imagination playing tricks on you," said my mother with a loving and caring smile.
My parent walked back into their room keeping the door open. I walked back into my room, turning off the lights, and getting back into bed.
I starred at the spot where he stood, glaring at me with his empty eyes. I slide back into my bed with the warmth engulfing me once again, but that still didn't take the worries out of my mind. I laid my head down on my pillow and tried to take the concerns out of my mind and soul. I closed my eyes and dreamed of the man who watched over me, protecting me from the bad things in life.
The guardian had shaggy honey colored hair, empty eyes of an angel, and a halo that resembled a hood covering him. I woke this time with a smile of my face as I looked at the foot of bed. It wasn't a dream, it was my angel.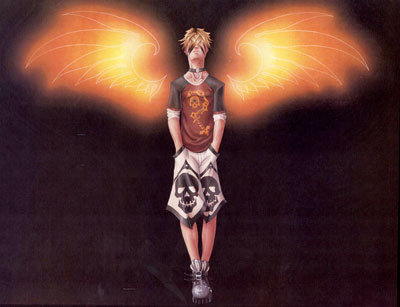 © Raul R., Monte Vista, CO