Who Has Come To Play?
October 14, 2009
Where am I? I thought.
Last I knew I was in my bedroom, asleep.
This was not my room.
The darkness enfolded my body in its terror. My bedroom could not get this dark.
I put my hands to my eyes. Total blackness. Not even a dull outline. Was there ever a shred of light shone upon this place? If so, I bet the person who brought it was not as horrified as me.
Should I just stand here? Or should I try to find a way out?
The latter was my pick.
I put my hands as far out in front of me as possible. Walking slowly, I moved my hands around. Just to feel something, to know this vast tomb had other things inside it besides this young body. Is this what happens after you die? If so I could now understand why people fear death. Loneliness is terrible.
After what seemed an hour of walking, but was most likely only a minute, I felt something.
A cylindrical item. I tried pulling it but it would not budge.
I was curious as to how big it was, so I gave it a bear hug. My right hand went as far as it would go, but my left was rudely stopped by another object. A flat one this time. Maybe a wall.
If I follow it, I might find a light switch, or better, a door.
So I followed it.
The wall had a bumpy texture, as if it were made of plaster.
My finger hit something sharp and I instinctively put it to my mouth. A warm liquid trickled onto my tongue. Bleeding and unsure if it would become infected, I pressed on.
My hand hit another wall. I turned the corner and continued once more.
After something like a millennium, I felt a hand touch my shoulder.
"Who?" It asked. Its voice reminded me of Peter Lorrie from those James Bond films.
I remained as still as a mountain and quiet as a rock.
"Who has come to play with me?" the villain asked.
I turned around and, out of pure fear for my safety, punched the man. Then I turned and ran.
My elbow caught on something while I was running against the wall. I placed my uninjured hand on it.
A doorknob.
I turned it and saw the beautiful sun.
The villain had caught up with me, and when I opened the door, I heard it scream.
My first thought was that he was a vampire.
I survived a vampire.
Wait 'till my friends hear about his.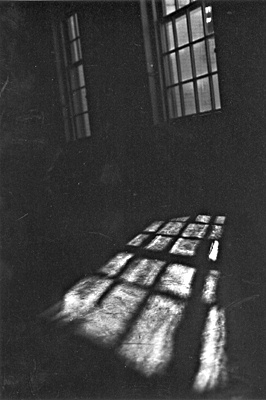 © Mary A., Fullerton, CA