Central Park
October 10, 2009
New York City
Central Park
1907


New York City's Central Park truly shined its brightest colors that morning. It was mid-morning, and only the real go-getters were out and about, talking the latest gossip, discussing the latest stocks, or simply catching some fresh air. Clusters of multi-colored leaves covered the park, crunching under the morning walkers. A welcoming chilly breeze greeted their summer-crested faces. It picked up the leaves and threw them all around one landing on the shoulder of Cecilia Brown. Little did any of these plebian people know that not just ten yards away, a woman crouched in the bushes, her deep black eyes feasting upon the every move of a six year old child. Her eyelids were wrinkled and worn, the affects of many sleepless nights and paranoia. White straggly hairs covered her balding head, a few falling over her aging face.
This position in the bushes was incredibly painful, but Cecilia Brown had been used to worse from her time in the asylum. Cecilia had just escaped nearly hours earlier, from the New York Ward of the Insane. Cecilia knew she was not insane, she just wanted a daughter. That's all she really wanted. Why couldn't anybody see that? She knew somebody who did understand everything she was going through. His name was Henry. Henry was the love of her life, the one thing that kept her from going over the edge. Henry gave her the idea of breaking out. He gave her this wonderful idea. The child was hers.

Cecilia Brown had schizophrenia. She had no perception of expression of reality. In other words, Henry was simply not. The doctors and nurses back at the asylum said she was different. Henry knew she was perfect.
"No, no, no, Henry is real." Cecilia thought, shaking her head uncontrollably. She focused her eyes back on the young girl trying unsuccessfully to catch a pigeon.
"God she's gorgeous." Cecilia thought, her eyes watering up and a few tears escaping the ridge under her eye. She may have been insane, but she could still determine the cuteness of a girl. She would be perfect. If only she could just get her hands on her.
It was crunch time now. It was now or never. She had to act now. The child's mother was trying to get her to leave the pigeons alone, so they could leave. The girl thought otherwise, and continued to poke and grab.

"That a girl." Cecilia thought, edging closer. Keep still. Henry kept telling her to do it now. Her head was almost showing now. The mother began to tug at the girls shoulder. The girl turned away, and the mother instinctively tugged again harder.

"Don't you touch her!" Cecilia yelled thrashing out of the bushes and onto the leaf covered street. The girl swiveled around, her perfectly constructed blonde braids bouncing around. She looked confused and scared when she saw this crazy woman. The girl instantly ran to the presence of her mother, who's face was pure white, with shock and then anger.

"You get away from my child, you freak!!" The mother screamed, realizing the true ugliness cast upon the woman's face. Her creased and wrinkled face was smushed all together, giving it the affect of a poorly made play-doh structure.

"She's mine!" Cecilia screeched, and Henry told her to grab the child. She reached out and caught a piece of her red and white plaid dress. The girl screamed out for her mom, but her cry was muffled by the dry and rough hand of Cecilia Brown. Cecilia was stronger than the girl and her mother, and snatched the girl with ease. The helpless child tried to scream, but she couldn't breathe. Her mother kicked and pulled at Cecilia, but it proved no use, as the kid-napper showed no mercy, but instead screamed, "She's mine! She's mine!"
Passers-by stopped and attempted to save the child's life. The girl kicked at the shins of her captor, using every amount of force left in her frail and weak body. Cecilia never gave her a chance.
New York Central Park truly showed his darkest colors, that fall day, as the innocent young six year old girl kicked no more, and slowly… faded… out.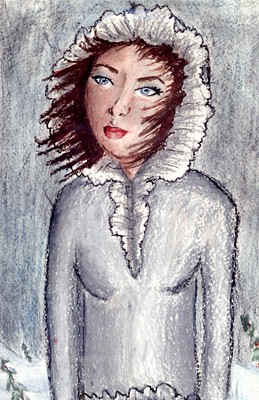 © Hart S., Versailles, KY