Blood Sister
May 3, 2009
The night was bitter cold. The wind whistled in my ear. The trees rustled in the wind. I was alone. I crept into the woods, away from the nursery. Hopefully no one heard me.

I felt someone was watching me, I bit my lip. I sped up, knowing someone was behind me. I heard a leaves crutching behind me. I began to worry. It wasn't the nanny, I was positive of that. I turned around, no one.. not a sound.. nothing.

I held my head down, scared. Then, I bumped into something. I saw feet beneath me.. then I raised my head higher.. a girls face. "Get... out.." She whispered in my ear. "W-who are you?" The girl said nothing, and pointed at the nursery. "Leave.. this place.. now."

I backed up, but tripped on a large root behind me. The girl walked towards me. "Don't touch me." I quickly grabbed a stick, and threw it at her. It hit her in the face. She was angry now.. she gained speed as I tried to crawl away. She grabbed my ankle, and dragged me to a near-by tree. "Let GO! Ahh!" I tried to kick her, and make her loosen her grip, but she was too strong.

"Leave." I sat at the tree head down in my arms, crying. "What do y-you want w-with me?!" The girl pulled me up by the hair. "Ow!" The moon gave enough light to show her face. "Oh my god.." I touched her face to make sure what I saw was true. "Your face is full of.. blood.." The girl let go of my hair. "Yes, I-I fell on my bike today. But I have always been wondering the first time I saw you, what is your name?"

I was hesitant. "Lucy. Lucy Edwood." The girl smiled, and hugged me. "Lucy! My dear sister! Remember me?" I smiled. "Macy!" Me, and my sister were now reunited. "I have to tell father I have found you! He will be so pleased." I ran back to the orphan ditch, with Macy right behind me.

That afternoon, after lunch, I called my father, and told him the story about me finding Macy in the woods. I put him on speaker phone so Macy could hear. "Um. Lucy, my dear, Macy has been dead, for two years." Lucy shook her head, and looked at her sister. "Don't listen to him Lucy, I'm hear, alive aren't I?" I frowned. "Dad, I don't believe you, police reports say she went missing in the forest, and that is where I found her!" Father sighed. "Sweetie, she did go missing in the woods, and that is where she died. Even ask your mother.. Linda! Come, and say hello to Lucy!" I heard the sound of my mother walking down the steps.

"Hey honey. Listen. I think it's time we told you the truth." A sigh came from my mother. "Alright, you were only thirteen when your sister went missing. We were all terrified, I knew I shouldn't have let her go to that party. Anyways, so we called the police that night, and reported Macy, missing. The police asked people at her party where, and what she did. One of her best friends was smart to answer. 'She went into the forest with some other girl.' So, the police investigated the whole forest. Nothing. Until they came across a steak knife, and a bag, hung by a tree.

"Police opened the bag to find Macy, dead, and stabbed several times. She was murdered by the closest person she knew. You. That is why we gave you away.. to the orphan ditch.. no one wanted you here anymore. I am sorry." I hung up the phone.. angry. I kicked stuff around, I threw my phone against the wall, and I screamed as loud as my throat could take.

"Macy, why didn't you tell me?" Macy laughed. "You foolish little sister of mine.. how could you? Was it because of Chad? Or were you jealous?" I was scared, I-I didn't know what to do, or say. "Macy, I don't know, I'm sorry!" Macy took me by the hair, and pointed a knife to my throat. "It doesn't matter anymore.. it's your turn now.. have fun in hell, Lucy. See you soon."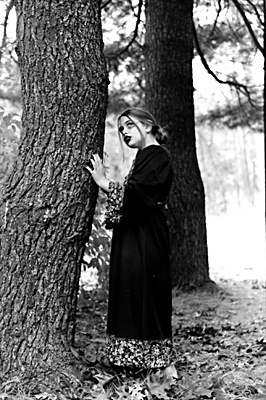 © Pamela T., Norwalk, CT