Close Deception
April 29, 2009
The darkness of the cell scared away any shadows that would dare linger and painted fear across the walls. It was everywhere, in the air and in my mind; I knew I was going to die. I struggled under the ropes around my arms and legs and they were beginning to break my skin; there was no hope in escaping. I always thought I would pass away of old age, in my sleep or sitting on a porch overlooking the countryside; my paradise. This was no paradise.
My heart raced at the sounds of his footsteps and jingling keys. I wanted to see my killer, stare into his eyes and know what the devil looked like. I slipped off the blindfold that only shielded my eyes from more darkness. The key entered the shaft and turned the gears inside the lock until a small click resounded through the hollow space. Rays of light filtered through the crevasses of the door. It swung open and the light from outside glinted off his round glasses like my father used to wear. Cussing under his breath, he stammered over to where I was and began to strangle me with his callused hands.
He raised his clenched hand, "Now you'll never see anything again!"
In that instant I stared into his eyes. I fell into a sea of auburn mixed with hatred, confusion, love, and greed. Despite this, the face materialized in a memory of a man walking out on our threshold, out into the world never to see my mom's and my face again. My father's hand came crashing on my face upon this realization and shattered my jaw. The bone fled the wrath of his fist and escaped into my skull. There was sharp pain and then immediate happiness. The dark cell fell away and I opened my eyes to a brighter realm of bliss. I tell you this story not because I am living but because here the last minutes of our lives never cease to play in our minds.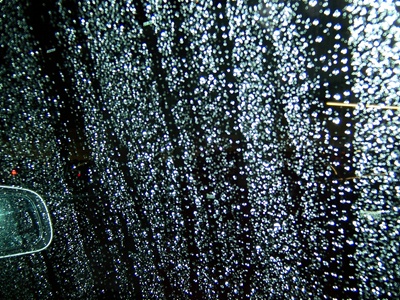 © Jessica L., San Jose, CA