Real Life Nightmare
April 29, 2009
"Wake up!" It was my mom. She always wakes me up at 6:30, so why did she have to wake me up at 6:00 today?!

"Wake up, now, Apple Seamoleen!" I had to wake up or my mother would really leave me at home. Getting up, I put on my new jeans and my old lilac shirt. Passing through the hallway, I saw my little sister, Cookie, dancing to Disney songs, it was hillarious!! Anyway... I had to find my shoes... I looked for them everywhere, but I couldn't find them, so I got my sandshoes, grapped a pear and went to the car.

I was extremely tired, my eyes started to close in history class. "Are you OK?!" I didn't identify the person who asked me that, however, because my sleepiness was too intense; my eyes closed slowly.

Suddenly, I was in an unknown magical place. Out of nowhere a women appeared and started talking about someone that would get hurt, a very close friend of mine and that I should be careful with the people I loved.

In a flash, I woke up in the principal's office, and was lying down on a sofa: my mom was there with a worried face.

On the way home, I was afraid of telling my nightmare to my mother, as she might think I was crazy! I just remained quiet.

When I got home, I went to my room and thought "What was that?! Would it really happen?! Oh my gosh! What should I do?!"

It was already 10 o'clock and it was getting late, but sleep was the one and only thing I didn't want to do. However, my mother would keep telling me to go to bed and, of course, I was tired. While I was reading a book, I closed my eyes for a second and... It was too late.

In the blink of an eye, I was in that weerd place again. The woman was there too, but this time she appeared in a foggy haze, mentioning my friend Kaira. Then, various images showed her arm getting cut and blood splashing all over the floor of a kitchen!!!

"AHHH!!!!!!" I screamed. A strange sensation came over me; my heart was pounding. Fear took control of my feelings. I was crying uncontrollably!!

The alarm clock beeped, then I noticed it was already 6:30 a.m. I took a piece of paper from my nightside table and wrote all I had seen in that nightmare, then I went to school.

The first thing I did was check on Kaira, but she wasn't there. In fact, by the end of the day, she hadn't appeared at all! Instead of going home, I went to Kaira's house expecting to see her with only a fever, but her brother told me she was in the hospital and had just lost one arm!

Running home, tears came rushing down my face. There had to be a way! I had to stop it!

For the next two weeks, it had been the same thing. My dreams always came true. Not all of them were that bad, though, yet none of them were great either.

That night I wasn't feeling good ...

This dream was happening in my house! My mom was there. Walking towards my room to wake me up, she slipped on my wet socks and banged her head on the floor!

I then was awoken by my mother's voice coming from the hallway. My eyes opened quickly and, instead of slipping, she just skipped over the wet socks! For the first time, my dream didn't happen!

That was an odd case. I then ripped a piece of paper from my school notebook and started writing about what I had seen in this dream and made the following observations.

a)
It didn't happen
b)
It happened in my room
c)
It was related to my mom

I had to discover what the resemblance was between this and the other nightmares. I got all my notes from the other nights and spent my Saturday evaluating them.

It was already midnight when I discovered that the only different fact between the dream that didn't happen and the ones which occurred was that I was there in the former case... The images of all my dreams flashed through my mind. My mom seriously hurt herself because I was there! Kaira had lost her arm because at the moment it was cut, I wasn't present. For my dreams not to happen, I needed to be physically present at the location where they were supposed to happen.

What was I supposed to do? Would I have to start living like a crazy 13-year-old girl running around trying to save people's lives? Is that what God is reserving for me?

It was.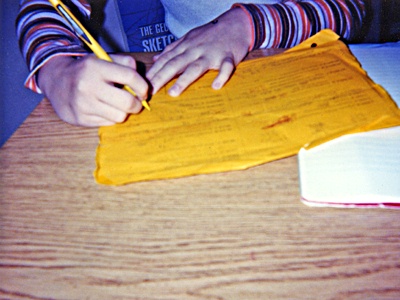 © April R., Highland Village, TX