TEENED: Pilot
May 20, 2017
Haïve:
Declan, Get Real. You are not going to cram a semester worth of Shakespeare into your head in four minutes.
Declan:
It's not like you're going to pass Haven. At least I have Hope.
Haïve:
Okay, first off I hate the name Haven you know that. It's Haïve. Secondly whatever hope you have is blind hope.
Declan:
Well Haïve, blind hope is better than no hope.
Haïve:
Maybe you could get an extension then… or a convenient head-cold that makes you pass out right before the exam.
Declan:
I've done that too many times. Mrs. Peterson won't let me get away with that again.
Haïve:
Okay then force Mrs. Peterson to give you an extension.
Declan:
Blackmail a teacher… that's too far even for you.
Haïve:
I never said blackmail… Just something drastic.
Declan:
Like…?
Haïve:
Like… Break a window, or push some theater nerd off the fire escape or…
Declan:
Pull the fire alarm!
Haïve:
Yeah, something like that… Except not that because you would get in so much trouble and you would get me in trouble by association.
Declan:
What does it matter to you? You already have like 28 hours of mandatory community service right?
Haïve:
Yeah but still that's like expulsion level trouble.
Declan:
And pushing a theater nerd off the fire escape isn't.

Haïve:
That's called collateral damage.
Declan:
That's called a civil suit.
But we'd end up with more hours for failing a final than pulling the fire alarm.
Haïve:
Not true… or good logic but fine. If we get suspended though, it was your idea.
Declan:
Deal
*Bell Rings*
*Declan pulls the fire alarm*
*Blackout and refocus on Cadence*
Cadence:
So it's one, two, three, four, five, six, seven, eight, Got it?
Nolan:
Yeah sure.
*Fails the Dance*
I'm sorry. I just can't get it. the dance is too complicated… I need a break.
Cadence:
You can take a break after we run it one more time from the top.
*Fire Alarm Sounds*
Nolan:
It's probably just a drill, we should run it again.
Cadence:
No, we shouldn't, if it is a drill it will only take a second anyway.
Nolan:
We only did it like 40 times without success.
*Cuts to Haven and Declan walking out of the building*
Haïve:
I can't believe we did that and it was actually a success!
Declan:
You ready to admit I'm a genius now?
Haïve:
Yeah, Yeah… If you were really a genius you wouldn't have had to steal the test on the way out.
Declan:
How do you think that people like Albert Einstein made it through life?
Haïve:
By having brains?
Declan:
Sure but my version is better.
Haïve:
You have invented a new kind of stupid.
Declan:
Of course, I have, just like Einstein.
Haïve:
Do you even know what Einstein created?
Declan:
The TV?
Haïve:
Point proven. You are ridiculous
Declan:
Not as ridiculous as you.
*Changes to Cadence and Nolan outside the theater building*
Cadence:
What are you even supposed to do during a fire drill?
Nolan:
Your guess is as good as mine.
Cadence:
I don't see a fire… or smoke for that matter.
Nolan:
Told you it was just a drill. Since the theater isn't on fire can we get back to rehearsing?
Cadence:
You okay? You seem upset.
Nolan:
Just stressed out over the performance.
Cadence:
Hey, don't lie to me. Is it your mom? Has it gotten worse? 
Nolan:
My brother is might be staying with us for the summer.
Cadence:
Declan?
Nolan
Yeah, but that doesn't matter right now. We have auditions to prepare and perfect.
Cadence:
Auditions can wait, if you need to talk I'm here, you know that.
Nolan:
I really don't but we should move on to monologs you coming?
______________________________________________________________
Haïve:
Come on you know this one what were the two major religions in Elizabethan England?
Declan:
Christian and Catholic.
Haïve:
Close. 1 out of two.
Declan:
Christian and Muslim?
Haïve:
Sometimes I can't tell if you're joking or not.
Declan:
I am! Christian and Protestant right?
Haïve:
You want me to tell you the answer now.
Declan:
Sure. Don't know what difference it'll make.
Haïve:
Catholic and Protestant. You almost got it. Next question, How did each Monarch treat those who did——
*Announcement over PA system*
* "Haven Greene and Declan Porter please report to Principal Williams's office" *
Declan:
It's probably something unrelated.
Haïve:
Oh yeah because we've recently done something as stupid as setting off a fire alarm.
Declan:
You mean like plagiarizing that paper or cutting off the power to the building or cheating on the math exam we took two days ago or—-
Haïve:
Yeah okay, I get it we've done some bad stuff.
Declan:
No dip sherlock.
Haïve:
Have you seen or read Sherlock?
Declan:
Actually yes I saw the movie.
Haïve:
You suddenly turn British, or intellectually motivated to do something valuable with your time.
Declan:
Not—-
*P.A. System, "Haven Greene and Declan Porter, report to the principles office immediately"*
______________________________________________________________
Principal
So do you know why you're here?
Declan:
We were caught on video doing something stupid, weren't we?
*Haven hits him*
Haven:
He's kidding obviously, we don't know why we're here.
Principal:
So you didn't know what you were doing when you pulled the fire alarm.
*Both stayed silent*
Look, Haven, I don't want to expel a student with your GPA, What is it now a—
Haven:
I'm confused aren't you just going to give us more community service and be done with it.
Principal:
As I have assigned that punishment in the past and it has not modified your behavior I have decided to take more drastic measures
Declan:
Okay, so detention?
Principal:
Not exactly. Since today you have proved you can create quite a scene and our theater program is looking for exactly that, I have decided to…
Declan:
Where is this going?
Haïve:
I have no idea.
Principal:
require you to attend 8 weeks of our theater program.
*Synchronized*
Haïve                                Declan
Social Suicide                           Nerd Club
Haïve:
Please Principal Williams detention, demerits, community service, anything but that
Declan:
Can't you just expel us?
Principal
On the last day of school, I don't think so. It's been decided. You start tomorrow after your exam of course. Now go back to class.
Declan:
You know this is your fault right?
Haïve:
My fault! Who was the genius who decided to pull the alarm?
Declan:
Who was the genius who gave me the idea?
Haïve:
You're ridiculous
Declan:
Not as ridiculous as you.
______________________________________________________________
Cadence:
Ready to run it from the top
Nolan:
I got it.
Cadence:
Okay. Lights! Camera! Nolan!
Nolan:
My name is Jacob Baker and today I will be performing a monolog! Oh my god, I've lost it in more ways than one. I don't know my mind and I've lost my lines. Or maybe that's the other way around, I lost my mind, and I don't know my lines. That's right. But not the right line.
Line?
Cadence:
Ummm, you're up to the part of pointing out your crush in the audience and humiliating yourself.
Nolan:
I meant to talk to you about taking that out because you know it's embarrassing
Cadence:
No way, it's one of the funniest parts.
Nolan:
I do not want to have to pretend to have a crush on someone random in the audience.
Cadence:
Then pick me, I'm not random, and I'm going to be there supporting you.

Nolan:
Yeah, supporting me and seeing your boyfriend.
Cadence:
He's not my boyfriend.
Nolan:
He might as well be.
Cadence:
Are you jealous?
Nolan:
Cadence we're supposed to be single ladies together.
Cadence:
He's not my boyfriend!
Nolan:
Do you want him to be?
Cadence:
I mean I guess I wouldn't mind him being my boyfriend but it's not like you haven't had crushes on guys before.
Nolan:
Never on someone you hated.
Cadence:
Blake, Colin, Logan. Nolan double standard much.
Nolan:
Blake cheated on two of his girlfriends, Logan was a jock with no emotions and I hate to break it to you but Colin is gay.
Cadence:
He is not!
Nolan:
He asked me to winter formal!
Cadence:
Wait. What? Why didn't you tell me that?
Nolan:
I didn't want to hurt you. He will hurt you, and I won't be able to do anything about it.
Cadence:
You don't know him! You're so stubborn with your stupid opinions.
Nolan:
I know him better than you apparently, at least I know how awful he is.
Cadence:
Okay you don't have to approve of my choices but... you know what. I'm not going to have this argument with you. See you in Improv club. If you aren't too temperamental to show up.
______________________________________________________________
Haïve:
Oh hey, is theatre class in this building, Declan, wait up, wait—
Nolan:
I'm not Declan! Do I look like a self-absorbed idiot to you? I'm seriously asking.
Haïve:
No?
Nolan:
Exactly, so why do people keep thinking that! I'm not my brother. I'm actually the opposite of him. We have nothing in common! Nothing, he has an ultra ego and no substance.
Haïve:
Technically you have DNA in common, and parents, a school, your dramatic disposition obviously, you want me to continue?
Nolan:
You know what nevermind, you don't understand how frustrating it is.
Haïve:
I understand how frustrating it is to have people not listen to you. Can you point me in the direction of theater club? Or is that too much for you right now.
Nolan:
Wow, no wonder you two are so close... you're both inconsiderate, and incapable of feeling empathy.
Haïve:
I'm gonna guess it's this building.
______________________________________________________________
*Declan walks into the building and sees Cadence crying*
Declan:
You okay?
*Cadence tries to look presentable*
Cadence:
Yeah. Umm… I'm fine.
Declan:
You know when people say they're fine it's normally a sign that they aren't okay.
Cadence:
Okay, fine, I'm not okay but not your problem.
Declan:
Make it my problem, What's wrong?
Cadence:
My friend just got really mad at me, and I understand why he's mad at me but it's just so stupid, and he's so stubborn and I so don't want him to be mad at me because we never fight and I have no other close friends and it's awful.
Declan:
Wow. That sucks.
Cadence:
Yeah, it does suck.
*Starts to cry again*
Declan:
Please don't cry, I never know what to do when girls cry.
Cadence:
Sorry. If it's any consolation you've done pretty good so far.
Declan:
And here I thought I was failing at it. Do you need a hug?
Cadence:
No. I'm good now thanks.
Declan:
If you say so
Cadence:
What are you doing here, if you don't mind me asking?
Declan:
I have been sentenced to eight weeks of theater club.
Cadence:
Sentenced?
Declan:
Punishment for something I did.
Cadence:
They sent you to theater club for punishment?
Declan:
I know. I thought I had the right to no cruel and unusual punishments. It's basically abuse.
Cadence:
*Laughs*
You're serious right now.
Declan:
I don't think I'm creative enough to make that up.
Cadence:
As president that hurts.
Declan:
You're president of nerd club, no way.
Cadence:
Last time I checked, I was elected 8 terms in a row.
Declan:
Well, you must be an awful president.
Cadence:
Ummm, Meaning.
Declan:
You're about to be late for your own meeting.
Cadence:
What?! Seriously.
Declan:
Yep.
Cadence:
We have to go. Wait… How awful do I look?
Declan:
You look like a ninth grade blonde.
Cadence:
Haha very funny.
Declan:
I try.
*Cadence opens doors and is met with Haïve*
Haïve:
Oh, Hi, are you going to theater club.
Cadence:
Uh, yeah.
Haïve:
Mind if I join you?
Cadence:
Not at all, right this way.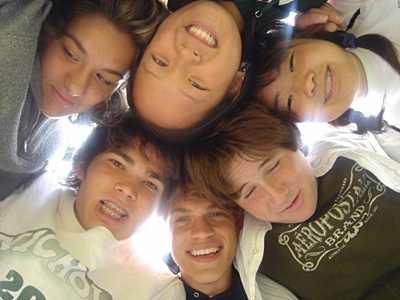 © Zhihan C., Hudson, OH