Buffalo Socks
November 16, 2016
(AGNES, a little girl, and JOY, her slightly older sister, sit together at a table, backs to the audience, staring at something in wonder)
JOY
What is it?
AGNES
It's my socks.
JOY
Yeah, but why?
AGNES
Because they're cute.
JOY
They're hideous.
AGNES
No, they're not!
(JOY and AGNES turn around to face the audience. AGNES is holding up a pair of light pink knee socks with brown bison all over them)
AGNES
I think they're pretty.
JOY
I think you're crazy.
AGNES
And I think that if you think I'm crazy it's because you're crazy and I'm sane and so sane people seem crazy from your perspective of craziness.
JOY
No sane person would spend twelve dollars and ninety-five cents on a pair of gaudy socks covered in—what are they, anyway? Teddy bears?
AGNES
They're buffalo, stupid. Like shuffle on to buffalo. Like the American plains.
JOY
Let me see those. (JOY takes the socks) These aren't buffalo, Agnes. They're bison.
AGNES
Bison?
JOY
Yeah. See, the horns are short. Bison have short horns, buffalos have long ones. And buffalos don't live in the American plains, bison do. Buffalos are from Africa and Asia. Don't they teach you anything at school?
AGNES
They're not bison, they're buffalo. They look just like buffalo!
JOY
Yeah, Agnes, that's what the settlers said too when they came over to America. So they called the bison buffalo. But they're not. They're bison.
AGNES
I don't believe you.
JOY
Fine. You can just be wrong.
AGNES
Fine, fine, fine, fine, fine, I believe you. But what makes them bison, anyway?
JOY
I don't know. Bison live in America and buffalos live in Africa and Asia. Bison have short horns and buffalos have long horns.
AGNES
That's it?
JOY
That's it.
AGNES
But what if there are bison and buffalos on my socks? What if the ones from America and the ones from Africa and Asia all came over and met somewhere in the middle like at…(struggles to think of a place between America and Africa and Asia) Australia, or something. What if they were all having a party in Australia when they went onto my socks?
JOY
(scandalized)
Buffalos and bison don't have parties together, Agnes!
AGNES
Why not?
JOY
Because they just don't!
AGNES
But why not?
JOY
Because! They live way far apart, and even if they didn't, they wouldn't get along.
AGNES
How do you know?
JOY
Let me show you. (pulls out a science textbook) See? My school book says that bison have got humps and buffalos haven't, plus buffalos have lighter fur.
AGNES
So?

JOY
So, if the bison and buffalo all got together in…Australia or wherever, the buffalos would be jealous of the bison for their humps and thick hair, and all the bison would be jealous of the buffalo for their light hair and lack of humps!
AGNES
Why?
JOY
That's just how bison and buffalos are.
AGNES
But what if they weren't. Look. (points to the book)They're both Animalia and Ch-Chordata. And art-ee-oh-dat-ee-la and bovy-day-ee.
JOY
But look at this. (points to book) Bison are in the genus of bison, water buffalos are bubalus and cape buffalos are syncerus. Different genus, see?
AGNES
Oh.
(closes book, seems to realize something, and is very disappointed)
Oh. (pause) I wish you hadn't told me that, Joy. I wish you'd really never even told me that bison even existed. And…and even if you had, I wish you hadn't told me, at least, how they wouldn't want to party in Australia with the buffalos. I really wish you hadn't told me that, Joy. I would have been okay not even knowing that animals wouldn't be friends just because they lived far away or didn't have the same genius or whatever.
JOY
Sorry, Agnes. That's just the way things are.
AGNES
(pause)
You can have them.
JOY
Huh?
AGNES
My…my bison socks that cost twelve dollars and ninety-five cents. You can have them, Joy.
JOY
But…but you bought them!
AGNES
I don't want them anymore. Not if every time I wear them I'm going to be thinking about the real bison in America who would never even consider going to Australia with the real buffalos in Africa and Asia. You can have them.
JOY
Sorry, Agnes. You had to learn. Everyone has to learn at some point, right? Bison don't go with buffalo.
AGNES
(considers this)
I guess…I guess not. Do you think that the buffalos will stay away from the bison on my socks?
JOY
Far away. Buffalos are very dangerous, you know.
AGNES
Well, I would only think so. (pause) Do you think I could keep them? Could I keep my buffalo socks.
JOY
Bison. Bison socks, Agnes.
(hands the socks over)
AGNES
Right. Bison
(AGNES takes the socks and the curtain falls)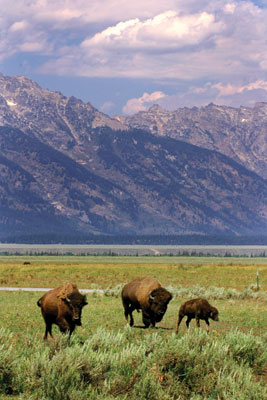 © Matt S., Glastonbury, CT