wicked michelle
November 3, 2016
Just before Mason knew it he was in the dark fighting for his life, dodging every punch, kick, that came his way. You could hear his heart beating through his chest as he fought his hardest to get michelle off him. Michelle was a strange 12 year old girl that didn't act her age. She was 13 but seemed to be 18 the way she dressed and carried her self. She was raised by a single mother, but she couldn't control her no one did or could. Michelle had everyone scared, whatever she wanted she got. It was a rumor going around that she may have killed a boy that she liked because he wouldn't give her chance. Michelle met mason while shopping in the mall, michelle saw mason and just had to have him. Of course she lied about her age and said she was "19",  she had the body to prove it so mason believed it without a doubt. They went on a couple dates and enjoyed every minute with each other. Some things started getting strange the longer they were dating. Mason wanted to go to clubs to show off his new girl not knowing he was walking around with a pre-teen. Michelle lied about not having her i.d or just not wanting to go at all. Mason: babe when i can i meet your mom it's been 5 months, you met my whole family i haven't met anyone in your family.
Michelle: baby i told you, you will soon just not yet i don't think it's time for you to meet my mother yet.
Mason: by why is she sick ?
Michelle: don't worry about her she's fine baby i just dont think its the right time for you to meet her.
Mason: whatever michelle
Michelle: what did you just say?
Mason: nothing lets just go.
Mason was curious and desperately wanted to meet her mom, so he decided to meet her behind michelle's back. The next day mason found her address from mail that michelle had hiding in her backpack. Mason pulls up and finds a beautiful women in her garden that looks a lot like michelle.
Mason: excuse me, hi are you michelle's mother?
amber( michelle's mother): why yes, and you are?
Mason: my names mason im the one who's dating your daughter, im sure you have heard a lot about me
Amber: um im sorry no i haven't would you like to come in?
Mason: yes thinks
Amber: want anything to drink, snack on?
Mason: yes anythings fine thanks
Amber: ( hands mason goodies) so how long have you too been dating?
Mason : we started dating in january so about 5 months now
Amber : 5 months? And im just now meeting you where have she been hiding you
Mason: well she has been saying she doesn't believe its the right time to  meet you so i brung it upon myself to meet you
Amber : oh okay , how old are you?
Mason: im 20
Amber: 20? Oh no michelles at it again
Mason: at what again?
Amber: mason it was very nice to meet you but i think its time you leave
Mason: um okay but can you answer my question first
Amber: look you didn't hear this from me but my daughter is not what she say she is be careful, how old did she tell you she is?
Mason: she's 19 right?
amber : i've said too  much already, again it was nice to meet you mason you should go.
Mason couldn't believe his ears, what was amber talking about? He was curious and again went behind michelle's back to find out some more information about his " girlfriend". He went to a library and made sure it was empty, he typed the few things in the computer that he knew about michelle and she finally came up. Mason couldn't believe his eyes. He found out everything that he always wanted to know.
(FlASHBACK)
mason: michelle lets go to the club tonight, babe im tired of going out to eat almost everyday let's do something different tonight
Michelle: mason i already told you i can't go because i dont have my i.d lets just go to the movies tonight then.
Mason:fine but next were going to the club so get your i.d
" thats why she never could go to the club she's 12" mason printed out all  michelle's information and strormed out the library and rushed back to the house where he found michelle laying in bed.
Mason: MICHELLE DO YOU HAVE SOMETHING TO TELL ME?
Michelle: ( JUMPS) no baby what are you talking bout
Mason: ( throws paper in her face)

Michelle: (reads the paper) GASP
Mason: YEAH AND I FINALLY MET WITH YOUR MOM WHAT ELSE HAVE YOU BEEN LYING TO ME ABOUT HUH? YOUR F***ING 12? ARE YOU SERIOUS? HOW COULD YOU LIE TO ME? I COULD GET LOCKED UP FOR THIS! ARE YOU CRAZY?
Michelle:(charges at him with a knife) :YOU LOOKED ME UP AND MET WITH MY MOM BEHIND MY BACK?  WHAT I DID IT TELL YOU ? HUH THIS IS ALL YOUR FAULT EVERYTHING WAS GOING SO PERFECT BEFORE YOU MESSED EVERYTHING UP.
Mason: calm down with the knife alright i was just getting more information about you because you never tell me anything about you okay that's it.
Michelle: BUT DID I TELL YOU TO DO THAT? NO I DIDN'T
Michelle blacked out and started stabbing mason over and over again without even thinking first. While she did this all she could think of is he could have been the one and we could have been together forever if he wouldnt have messed everything up. It sent her into a rage, she dismembered him and dumped him in the shallow grave. Without looking back she walked off as if nothing ever happened and started searching for next victim i mean boyfriend.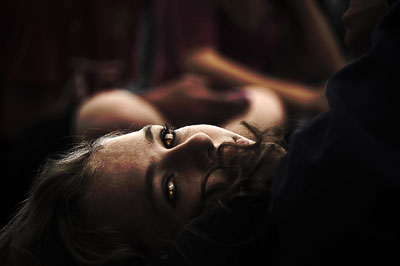 © Calvin C., Salt Lake City, UT