The Tempest in reverse- Hugely simplified
July 5, 2013
Scene 1- The Divorce

Miranda:
I think thou t'was ever the fool for my marriage!



(Spoken angrily)
Ferdinand:
Woah, this is happening too quickly. Thou blind fool, love, what dost thou to mine eyes?



(Spoken in a confused manner)
Miranda:
W-w-what?
Ferdinand:
We need to seek judgement- thou must repent this mistake
Miranda:
What?

Ferdinand:
Say what again? It t'was for you I agreed to your hand in marriage!



(Spoken with spite and regret)
Miranda:
I musteth leaveth thou now!



(Miranda is now in tears as she leaves the stage- The onlookers gasp and look at one another)
Scene 2- Alonso and Prospero's meeting

Alonso:

I knew t'was not forever!



(spoken slyly- intended to irritate Prospero)
Prospero:
You spleeny ill-breeding giglet, thine backward voice is utter foul speech
Alonso:

Treason, off with his head
Antonio:
But sir, we have not an axe



(Spoken hesitantly)
Alonso:

Your Dukedom is revoked- as of now



(Tower over Prospero)
Prospero:
If you prick us do we not bleed? If you tickle us do we not laugh? If you poison us do we not die? And if you wrong us shall we not revenge?
Scene 3- Trinculo, Stephano and Caliban, Part I

Caliban:
Taketh off them fancy garments! We musteth return home



(Spoken in a gruff deep voice)
Staphano:
Come, Show us off this isle, to the land yonder
Caliban:
Is this a dagger I see before me?



(Look for a knife)
Trinculo:
Confusion hath made him insane



(Point at Caliban)
Staphano:
This creature hath drunketh too much! Let him be damned like the gluttony of drink!


Scene 4- Prospero and Miranda




(Prospero finds Miranda crying)
Prospero:
Ah my love-There's beggary in love that can be reckoned
Miranda:
Whyeth is life so treacherous, subtle and false?



(Still spoken tearfully)
Prospero:
You know the old saying. What was to be was to be. What was not to be was not to be
Miranda:
Your wisdom is comforting. It was better to have loved and lost than to never have loved at all
Prospero:
Miranda, good call- Caliban is still a fine individual- you could see him!

Scene 5- Trinculo, Stephano and Caliban, Part II

Caliban:
Sleep now, wine is a good creature when well used, a tyrant when exploited. It has forsaken me
Staphano:
Dear creature- you promised your guidance off this land



(Spoken desperately)
Caliban:
I said no! I am too sleepy
Trinculo:
Would you do it for a Cali-snack?
Caliban:
Cali-snack? Of course my dearest of master!

Scene 6- Alonso, Sebastian, Gonzalo and Antonio, Part I

All:

FERDINAND, FERDINAND?
Seb:

The sooner we leave this god forsaken isle- Hopeless and helpless doth went, but we shall procrastinate to the lifeless end!
Gozalo:

When I was younger t'was not an island, but the glory of Pangea!



(Look confused)
Antonio:
#TheresNoFutureInHistory
Gonzalo:
Where is yonder "Hag" and where hath she been hashed from?

Scene 7- Ariel and Prospero

Prospero:
Kill them all!



(Whispered)
Ariel:

Until Ariel gets a piece of clothing from his master, Ariel is not free!
Prospero:
I'll make you an offer thou cannot refuse! Get me offeth this island with my enemies thwarted and you shall obtain your masters clothing!
Ariel:

Yes please master, please!


Scene 8-Alonso , Sebastian, Gonzalo and Antonio, Part II




Ariel floats down tapping both Alonso and Gonzalo on the shoulder. They both get heart attacks and collapse to the floor.
Sebastian:
What is happening? Cut off even in the blossoms of my sin?
Antonio:
Hasteth I remembered my year 9 first Aid?



(Begins to do appalling first aid and in frustration pushes Antonio who falls onto Gonzalo and Alonso- reviving them)

Antonio and
Gonzalo:
Que? Muchas gracias senior!
Sebastian:
Feye! They're stuck in Spanish mode!
Alonso:

Que piensas de los animales impeligro d'extinction?
Sebastian:
Striketh them once more- this is unbearable!



(Antonio hits them again)
Gonzalo:
Zdravo! Kako si?



(Antonio hits them AGAIN restoring them to English)
Alonso: The tempest the awaits us is violent, we must get to the ship!



(The group agrees)

Scene 9- Ariel's Liberation

Prospero:
The ship! Ariel my dearest beloved, I am grateful.



(Give Ariel sock)
Ariel:

Ariel is FREEEEEEEEEE
Prospero:
I must leaveth now!

Scene 10- The marriage

Prospero:
Keep your filthy hands of my precious daughter! You will be prisoner in ma hidden cave- far from Miranda.
Caliban:
Never!
Ariel:

Thou are nothing more than a cruel master, so controlling!
Caliban:
What?
Miranda:
Caliban, Caliban- wherefore art thou Caliban?
Caliban:
Alas, fair maiden. Will you take my hand in marriage?
Miranda:
Of course, my handsome knight! But my father… will not allow it!
Ariel:

Worry not my dearest precious, yonder father t'was a tyrannous man- he treated me like dirt! He will not ruineth your life also!



(Ariel casts a spell on Prospero- killing him)
Miranda:
My sins did not merit such treacherous an end!
Ariel:

My comfort is, that in old age, that ill layer-up of evil, can do no more spoil upon your prosperity!


Caliban:
We must marry now- time is of the essence! Ariel, t'was you say of the ceremony conducting
Ariel:

Caw, Caw, Caw- I pronounce you beast and wife- Caw Caw
Miranda:
We musteth run from the Tempest. It will be devastating- may I thank you Ariel and you will forever have a place close to me! The storm that will rage may crush the feebleness of the settlers' vessel, but we shall remain intact regardless to the hardships of today's cruelty and greed.


Scene 11- The meet up

Alonso:

The animosity of God will bear down on us- we must be hasty in the boarding of yonder vessel.
Gonzalo:
That is correct.
Antonio:
Where is Prospero?
Alonso:

There is not enough time nor enough care in my heart for that cold beast!




(All go to the board the ship)

Scene 12 – The Tempest

The storm prevails and destroys the ship. All characters whom it concerns should sway about on the stage shouting and thrashing about. After about 15 seconds they should all slump onto the stage and that will be the end of the play.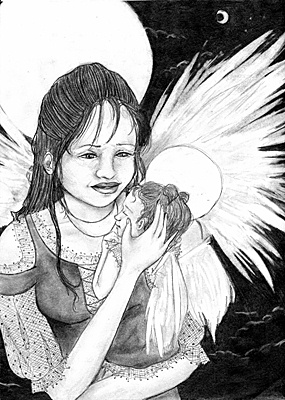 © Danielle S., Buffalo, MN